Finding Resources: Free to Use & Reuse Primary Source Sets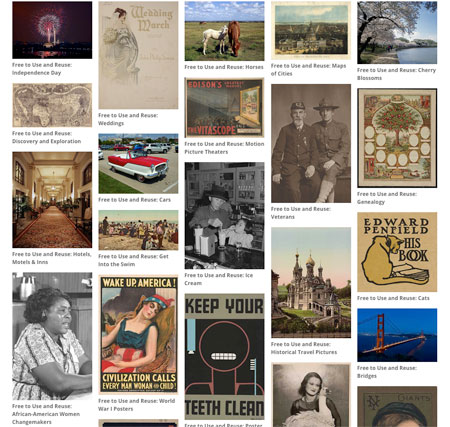 These primary source sets provide just a small sample of the Library's digital collections that are free to use and reuse. The digital collections comprise millions of items including books, newspapers, manuscripts, prints and photos, maps, musical scores, films, sound recordings and more.
Click the topic link to access each Free to Use & Reuse set from the Library. Those sets that have related sets of images found on the Library's Flickr Photostream or sets of Library resources and/or learning resources curated/created by PSN are included in bulleted lists below the associated topic links.
19th-Century Portrait Photos
portrait photos from the C.M. Bell Studio Collection
Abraham Lincoln
highlights from the Library's collections on Abraham Lincoln
Advertising Food
all kinds of signs advertise food, including buildings
African-American Women Changemakers
educators, activists, artists, and more
Aircraft
images of balloons, gliders, blimps, dirigibles, airplanes, fighter jets, helicopters, and space shuttles
American Revolution and Founding Washington
maps representing cities, battles, and symbols involved in the founding of the United States
Architecture & Design
gorgeous gardens, breakthrough buildings and notable designs
Art of the Book
examples of illustration, binding, and typography from a variety of locations and historical moments
Asian Americans and Pacific Islanders
historical images touch on the experiences and contributions of Asian Americans and Pacific Islanders while living in the United States
Athletes
highlights athletes in more than forty different professional and recreational activities
Autumn and Halloween
activities and scenery from late September through early November
Baseball cards
cards dating from 1887 to 1914
Bicycles
photos and illustrations of bicycles and cycling through history
Birds
images of a variety of our feathered friends across time periods, communities, and places
Birthdays
find inspiration for celebrating birthdays, including gift ideas, festive parties, music, and fireworks.
Bridges
featuring the Golden Gate Bridge, the Brooklyn Bridge, the Bridge of Sighs and many more
Cars
images of classic cars, race cars, steam-powered cars & more
Cats
photos, posters & illustrations
Cherry Blossoms
images from Japan and Washington, D.C.
Civil War Drawings
selections from Adolph Metzner Civil War Drawings
Classic Children's Books
links to read these books online
Diners, Drive-ins and Restaurants
highlights architecture, signage, and people at diners, drive-ins and restaurants—one in each state and the District of Columbia
Disability awareness
people with disabilities throughout U.S. history—at work, at play, at school, and advocating for change
Discovery & Exploration
maps that shaped our view of the world throughout history
Dogs
pictures of canines and their humans
Dragons
from more than 2,000 years ago to recent times, these images depict dragons as heroes or villains in book illustrations; mythical figures in dramatic carved shapes; and symbols in posters and cartoons
Families
serious and humorous family portraits and activities concentrates on the 1800s to the 1940s
Farm Life
aspects of life on American farms: landscapes, work, play, and everyday moments from dinner to doctor visits
Films
selection of films from the National Film Registry
Fish & Fishing
traditional, scientific, nostalgic, commercial, and humorous views from the 16th to 21st centuries
Flickr Favorites
favorite images selected from the Library's Flickr photostream
Football
selected images
Gardens
international scenes of flower and vegetable gardens from the 1800s to the present day
Genealogy
family registers, family trees and photos, maps that document land ownership and more
Hats
offers a challenge to see how many of the hats you can match with an occupation, time period, or geographic location
Hispanic Heritage Month
images represent the historical experiences and achievements of people with Latino and Hispanic roots across the United States
Historic Sites
fascinating perspectives on how sites were designed
Historical Travel Pictures
color images from Europe, the Middle East, Canada, Asia and the South Pacific as they appeared in the 1890s and early 1900s
Holidays
images from the Library's collections
Horses
scenes from the open range, farms, and cities as well as sports, the military, and recreation
Hotels, Motels & Inns
from Palm Springs to Paris, New York to Norway and all around the world
Ice cream
photos of ice cream parlors, ice cream advertisements and Thomas Jefferson's ice cream recipe
Irish Americans
includes a variety of primary source types
Independence Day
reflect on how the holiday has traditionally been celebrated and also to discuss the complex history and symbols surrounding American Independence
Jazz Photos
selections from the William P. Gottlieb Collection
Kitchens and Baths
this set covers many different settings for these daily activities from the 1500s through the present day
LGBTQ+
portraits of Lesbian, Gay, Bisexual, and Transgender Americans represent people who made a difference in many careers and time periods
Libraries
libraries in all shapes and sizes serving their local communities
Lighthouses
American lighthouses primarily from the 1800s and 1900s
Main Streets
images from throughout the United States illustrate the variety of main streets or major thoroughfares in urban and rural America from the 1850s to the 2010s
Maps of Cities
from individual buildings to panoramic views of large urban areas
Motion Picture Theaters
from classic theaters to beautiful historical film posters to snapshots of American moviegoing life
Natural Disasters
images of avalanches, blizzards, droughts and dust storms, earthquakes, floods, forest fires, heat waves, hurricanes, landslides, tornadoes, volcanic eruptions, and waterspouts from the 16th to the 21st centuries
Nurses & Nursing
pictures focused on the mid-1800s to mid-1900s showcasing women and men who provided nursing services by caring for the sick and wounded at home and during wars and international relief efforts
Older People
images from the 19th and 20th centuries shows older women and men in formal portraits; scenes at work and at home; as grandparents and veterans; with happiness, sorrow, and determination
Not an Ostrich
photos selected for the Annenberg Space for Photography exhibition "Not an Ostrich: And Other Images from America's Library
Poster Parade
1890s through the 1960s featuring travel, commercial products, war propaganda, entertainment, and more
Presidential Inaugurations | Presidential Papers | Presidential Portraits
from the United States
Reading: Books, Maps & More
images that show you can read just about anywhere
Roadside America
selections from the John Margolies Roadside America Photograph Archive
Shoes
pictures about making, selling, wearing, shining, repairing, and also needing shoes
Skyscrapers
images from the oldest acknowledged skyscraper to the crowded skylines of the 21st century
Statue of Liberty
from the early fundraising and construction years to the dedication in 1886 and the present day
Swimming
swimming pools, beaches & more summer fun
Teachers & Teaching
this set illustrates the wide variety of school, home, and informal learning environments that brought teachers and students together from kindergarten through college and adult continuing education, primarily in the 20th century
Tennis
equipment, courts, athletes and recreational players
Thanksgiving in History
select primary sources
Veterans
American veterans throughout history
Weddings
brides and grooms from many different customs and countries in the 18th to the 20th centuries
Women's History Month
selected images
Work in America
a wide range of people engaged in jobs from 1977 to 1998
Work Projects Administration (WPA) Posters
selections from the WPA Posters Collection
Writers and Writing
features notable authors in a variety of fields with connections to novelists, poets, historians, philosophers, reformers, scientists, along with people who overcame challenges in writing