Today in History: 1906 San Francisco Earthquake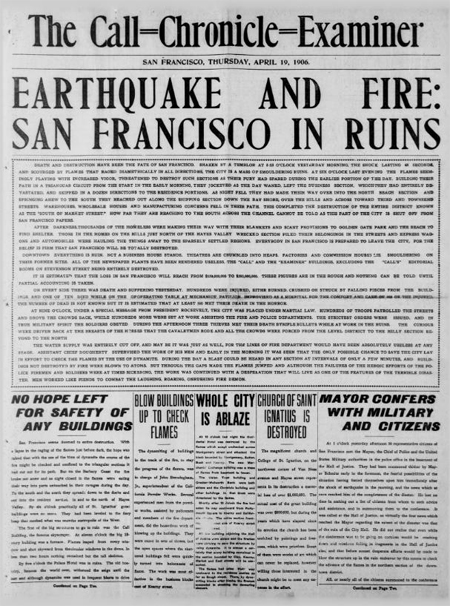 Today in History–April 18–the Library of Congress features the 1906 San Francisco earthquake, which shook the city early on this morning more than a century ago. The 8.3 magnitude (Richter Scale) earthquake and a subsequent fire leveled a large portion of the city and killed thousands. Find out more by visiting the Today in History section, then follow the links below to access primary sources about this tragic event and the city of San Francisco.
Before and After the Great Earthquake and Fire: Early Films of San Francisco, 1897-1916
San Francisco 1906 earthquake image set
The Great San Francisco Earthquake, 1906 (timeline and selected articles from the Chronicling America historical newspaper collection)
More 1906 historical newspaper coverage of the San Francisco earthquake
Books & other documents about the 1906 San Francisco earthquake
Map of part of San Francisco, California, April 18, 1908 : showing buildings constructed and buildings under construction during two years after fire of April 18, 1906
The 1906 San Francisco Earthquake and Fire National Archives online exhibit
The Great San Francisco Earthquake April 18, 1906 from America's Library
San Francisco: Before and After the 1906 Earthquake and Fire Picture This!
Related resources