Collections Spotlight: Works by Civil War Era African American Women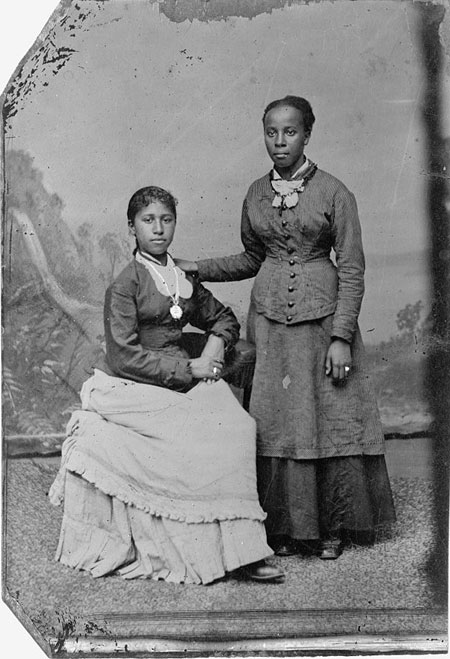 These digitized works were written by and about African American women who lived during the U.S. Civil War and include autobiographies, biographies, children's books, novels, poetry, speeches and more. The authors and the works are listed below; click the section headers to access links to the online works. Some authors also have related resource links.
Sarah H. Bradford 1818-1912

Harriet, the Moses of Her People 1886
Scenes in the Life of Harriet Tubman 1869

Virginia W. Broughton 1856-? – Twenty Year's Experience of a Missionary 1907
Annie L. Burton 1858?-1910? – Memories of Childhood's Slavery Days 1909
Ellen Craft 1826-1897 and William Craft: Running a Thousand Miles for Freedom: or, The Escape of William and Ellen Craft from Slavery 1860
Lucy A. Delaney 1828?-1890 –  From the Darkness Cometh the Light or Struggles for Freedom 189?
Kate Drumgoold 1858? – A Slave Girl's Story: Being an Autobiography of Kate Drumgoold 1898
Julia A. J. Foote 1823-1900 – A Brand Plucked from the Fire: An Autobiographical Sketch 1879
Elizabeth T. Greenfield 1819-1876 – The Black Swan at Home and Abroad; or, A Biographical Sketch of Miss Elizabeth Taylor Greenfield, the American Vocalist 1855
Charlotte Bridges Forten (Grimké) 1837-1914

"Life on the Sea Islands, Part I." Atlantic Monthly 13 (May 1864): 587-596.
"Life on the Sea Islands, Part II." Atlantic Monthly 13 (June 1964): 666-676.

Mattie J. Jackson 1846-1910 – The Story of Mattie J. Jackson: Her Parentage, Experience of Eighteen Years in Slavery, Incidents During the War, Her Escape from Slavery: A True Story 1866
Harriet A. Jacobs 1813-1897 – Incidents in the Life of a Slave Girl 1861
Elizabeth Hobbs Keckley 1824-1907

Behind the Scenes; Thirty Years a Slave and Four Years in the White House 1868

Victoria Earle Matthews 1861-1907 – Aunt Lindy: A Story Founded on Real Life 1893
S. J. McCray 1838?-1894 – Life of Mary F. McCray: Born and Raised a Slave in the State of Kentucky 1898?
Millie-Christine McKoy 1851-1912

The History of the Carolina Twins: Told in "Their Own Peculiar Way" by "One of Them" 18?

Louisa Picquet 1828-? and Hiram Mattison – Louisa Picquet, the Octoroon, or, Inside Views of Southern Domestic Life 1861
Eliza Potter 1820-1893? – A Hairdresser's Experience in High Life 1859
Nellie Arnold Plummer 1860?-1920 – Out of the Depths, or, The Triumph of the Cross 1927
Mary Prince 1788-? – The History of Mary Prince, a West Indian Slave.  Related by Herself.  With a Supplement by the Editor. To Which is Added, the Narrative of Asa-Asa, a Captured African 1831
Nancy Prince 1799-?

A Narrative of the Life and Travels of Mrs. Nancy Prince 1853
A Narrative of the Life and Travels of Mrs. Nancy Prince 3d ed. 1856

Amanda Smith 1837-1915 – An Autobiography: The Story of the Lord's Dealings with Mrs. Amanda Smith, the Colored Evangelist; Containing an Account of Her Life Work of Faith, and Her Travels in America, England, Ireland, Scotland, India and Africa, as an Independent Missionary 1893
Rosetta Douglass Sprague 1839-1906

Anna Murray Douglass, My Mother As I Recall Her. 1900. Rpt. Fredericka Douglass Sprague Perry, 1923

Eliza Suggs 1876-1908 – Shadow and Sunshine 1906
Susie King Taylor 1848-1912 – Reminiscences of My Life in Camp with the 33d United States Colored Troops Late 1st S. C. Volunteers 1902
Sojourner Truth 1797?-1883 and Olive Gilbert and Frances W. Titus

Narrative of Sojourner Truth, a Northern Slave, Emancipated from Bodily Servitude by the State of New York, in 1828 1850
Narrative of Sojourner Truth; A Bondswoman of Olden Time, Emancipated by the New York Legislature in the Early Part of the Present Century; with a History of Her Labors and Correspondence, Drawn from Her "Book of Life" 1878
Today in History: Sojourner Truth primary source collections

Bethany Veney 1813?-1916 – The Narrative of Bethany Veney: A Slave Woman 1889
Sally Williams 1796-? – Aunt Sally; or, The Cross the Way of Freedom: A Narrative of the Slave-Life and Purchase of the Mother of Rev. Isaac Williams of Detroit, Michigan 1862
Harriet Wilson 1825-1900 – Our Nig; or, Sketches from the Life of a Free Black: in a Two-Story White House, North, Showing that Slavery's Shadows Fall Even There 1859
Octavia V. Rogers Albert 1853-1890 – The House of Bondage, or, Charlotte Brooks and Other Slaves, Original and Life Like, as They Appeared in Their Old Plantation and City Slave Life; Together with Pen-Pictures of the Peculiar Institution, with Sights and Insights into Their New Relations as Freedman, Freemen, and Citizens 1890
Hallie Q. Brown 1845?-1949 – Homespun Heroines and Other Women of Distinction 1926
Mrs. N.F. Mossell 1855-1948 – The Work of the Afro-American Woman 1908
Josephine Brown 1839-? – Biography of an American Bondman by His Daughter 1856
Sarah J. W. Early 1825-1907 – Life and Labors of Rev. Jordan W. Early, One of the Pioneers of African Methodism in the West and South 1894
Lucy Eldine Gonzalez Parsons 1853-1942

Life of Albert R. Parsons, with Brief History of the Labor Movement in America 1889

Leila Amos Pendleton 1860-?
Frank A. Rollin 1847-1901 – The Life and Services of Martin R. Delany 1883
Mrs. N.F. Mossell 1855-1948 – Little Dansie's One Day at Sabbath School 1902?
Leila Amos Pendleton 1860-? – A Narrative of the Negro 1912
Anna J. Cooper 1858-1964

A Voice from the South. By a Black Woman of the South 1892
"Women's Cause is One and Universal" (1893 address). In The World's Congress of Representative Women 1894, 711-15

Sarah Mapps Douglas 1806-1882 – "Sarah Mapps Douglas urges Support of the Anti-Slavery Cause. Addressed to the Female Literary Society of Philadelphia" The Liberator, July 21, 1832
Frances Ellen Watkins Harper 1825-1911

Enlightened Motherhood: An Address by Mrs. Frances E. W. Harper; before the Brooklyn Literary Society, November 15th, 1892
"The Great Problem to Be Solved." Speech, Centennial Anniversary of the Pennsylvania Society for Promoting the Abolition of Slavery, Philadelphia, April 14, 1875 In Masterpieces of Negro Eloquence 1914
"Liberty For Slaves." National Anti-Slavery Standard, May 23, 1857
"We Are All Bound Up Together." (speech) Proceedings of the Eleventh Women's Rights Convention 1866, 45-48

Lucy Craft Laney 1854-1933 – "The Burden of the Educated Colored Woman." Report of the Hampton Negro Conference no. 111 (July 1899):37- 42
Lucy Eldine Gonzalez Parsons 1853-1942

"I am an Anarchist." The Kansas City Journal, December 21, 1886, 1
"Lucy Parson's Speech to the IWW in 1905." Minutes of the 1905 IWW Convention in Chicago
"The Principles of Anarchism." (lecture)
"To Tramps, the Unemployed, the Disinherited, and Miserable." Alarm, October 4, 1884

Josephine St. Pierre Ruffin 1842-1924 – "Address to the First National Conference of Colored Women." Woman's Era 2 (August 1895):13-15
Lucy Stanton Day Sessions 1831-1910 – "A Plea for the Oppressed."  Oberlin Evangelist, December 17, 1850
Mary Ann Shadd (Cary) 1823-1893 – "Break Every Yoke and Let the Oppressed Go Free." Speech delivered April 6, 1858
Rosetta Douglass Sprague 1839-1906 – "What Role is the Educated Negro Woman to Play in the Uplifting of Her Race?" (speech) D. W. Culp,Twentieth Century Negro Literature 1902
Sara G. Stanley 1837-1918 – "Sara G. Stanley Addresses the Convention of Disfranchised Citizens of Ohio." In Proceedings of the State Convention of Colored Men, Held in the City of Columbus, Ohio, January 16th, 17th, and 18th, 1856
Maria W. Stewart 1803-1879

"An Address at the African Masonic Hall." Address at the African Masonic Hall, Boston, 1833
"Maria W. Stewart Advocates Education for African American Women." Address at Franklin Hall, Boston, 1832
Meditations from the Pen of Mrs. Maria W. Stewart 1879
Productions of Mrs. Maria W. Stewart Presented to the First African Baptist Church Society of the City of Boston 1835
"Why Sit Ye Here and Die?" Address at the Franklin Hall Boston, 1832

Sojourner Truth 1797?-1883

"Ar'nt I a Woman?"  Address at the Women's Rights Convention, Akron, Ohio, May 29, 1851
"Address to the First Annual Meeting of the American Equal Rights Association."  Address at the American Equal Rights Association. N.Y., May 9, 1867
"Speech at New York City Convention."

Josephine Silone Yates 1852?-1912

Did the Negro Make, in the Nineteenth Century, Achievements along the Lines of Wealth, Morality, Education, etc., Commensurate with His Opportunities? If So, What Achievements Did He Make?
"Woman as Factor in Solution of Race Problems." Cleveland Journal 2, no. 50 (Feb 25, 1905)
Fanny Jackson Coppin 1837-1913 – Reminiscences of School Life, and Hints on Teaching 1913
Rebecca Davis Lee Crumpler 1831?-1895 – A Book of Medical Discourses: In Two Parts 1883
Abby Fisher 1832-? – What Mrs. Fisher Knows about Old Southern Cooking 1881
Nancy Prince 1799-? – The West Indies: Being a Description of the Islands, Progress of Christianity, Education, and Liberty among the Colored Population, Generally 1841
Josephine St. Pierre Ruffin 1842-1924 – The Woman's Era, Volume 1-3 1894-1897
Mary Ann Shadd (Cary) 1823-1893 – A Plea for Emigration, or, Notes of Canada West: In Its Moral, Social, and Political Aspect; with Suggestions Respecting Mexico, West Indies, and Vancouver's Island, for the Information of Colored Emigrants 1852
Frances Ellen Watkins Harper 1825-1911 – Iola Leroy, or, Shadows Uplifted 1892
Pauline E. Hopkins 1859-1930
Contending Forces: A Romance Illustrative of Negro Life North and South 1900

Hagar's Daughter a Story of Southern Caste Prejudice 1902
Winona: A Tale of Negro Life in the South and Southwest In Colored American Magazine. 5, no.1-6, (May-October, 1902)

A. E. Johnson 1858-1922 – The Hazeley Family 1894
Carrie Williams Clifford, 1862-1934

The Widening Light 1922
Race Rhymes 1911

Faustin Delany, 1859-1912 – Bits and Odds: A Choice Selection of Recitations for School, Lyceum and Parlor Entertainments Rendered by Miss Hallie Q. Brown
Mary Weston Fordham 1845?-1905 – Magnolia Leaves Poems 1897
Charlotte Bridges Forten (Grimké) 1837-1914

Charles Sumner
Wordsworth

Frances Ellen Watkins Harper 1825-1911

Atlanta Offering: Poems 1895
Forest Leaves 1840?
Idylls of the Bible 1901
Light Beyond the Darkness 189?
"The Massachusetts Fifty-Fourth."  The Anglo-African (10 October 1863)
Moses: A Story of the Nile 1869
Poems 1898
Poems on Miscellaneous Subjects 1854
Sketches of Southern Life 1891

Josephine Delphine Henderson Heard 1861-1921? – Morning Glories 1890
Mary E. Ashe Lee, 1850-1932 – Afmerica
Adah Isaacs Menken 1835-1868
Lizelia Augusta Jenkins Moorer, 1861?-1936 – Prejudice Unveiled: and Other Poems. 

Boston: Roxburgh Publishing Company, 1907

Ann Plato 1820-? – Essays including Biographies and Miscellaneous Pieces, in Prose and Poetry 

1841

H. Cordelia Ray 1852?-1916

Lincoln: Written for the Occasion of the Unveiling of the Freedmen's Monument in Memory of Abraham Lincoln 1893
"Niobe." African Methodist Episcopal Church Review. 10, no. 1, (July, 1893)
Poems 1910
Sonnets 1893
Frances Ellen Watkins Harper 1825-1911

"Minnie's Sacrifice." (short story in serial form). The Christian Recorder  March 20, 1869-September 25, 1869
"Sowing and Reaping: A Temperance Story." The Christian Recorder August 10, 1876-February 8, 1877
"Trial and Triumph."The Christian Recorder October 4, 1888- February 14, 1889
"The Two Offers." Anglo-African Magazine, June and July, 1859