Today in History: Louis-Jacques-Mandé Daguerre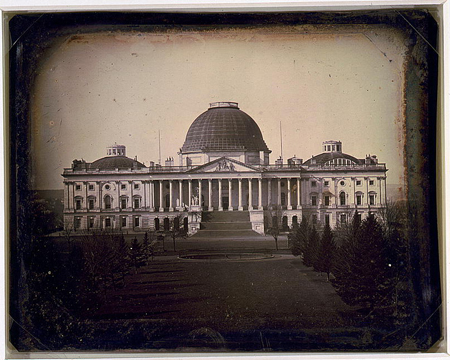 Today in History–November 18–the Library of Congress features French photography pioneer Louis-Jacques-Mandé Daguerre, born on this day in 1789. The daguerreotype was a convenient and effective process which rapidly gained in the United States. Learn more about Daguerre and the daguerreotype by visiting the Today in History section and following the links below.
America's First Look into the Camera: Daguerreotype Portraits and Views, 1839-1862
This collection consists of more than 725 photographs dating from 1839 to 1864, with portraits by the Mathew Brady studio making up the major portion; the collection also includes early architectural views by John Plumbe, several Philadelphia street scenes, early portraits by pioneering daguerreotypist Robert Cornelius, studio portraits by black photographers James P. Ball and Francis Grice, and copies of painted portraits.
Mirror Images: Daguerreotypes at the Library of Congress (special presentation)
Daguerreotype photos from the Prints & Photographs collection
The daguerreotype polka sheet music
Civil War Photographs: New Technologies and New Uses primary source set & teacher guide
Portraits of Brotherly Love story map
Pre-Civil War Photographic Technologies: The Calotype and Daguerreotype Teaching with the Library of Congress blog September 6, 2018