Learning from the Source: Capturing Character on Camera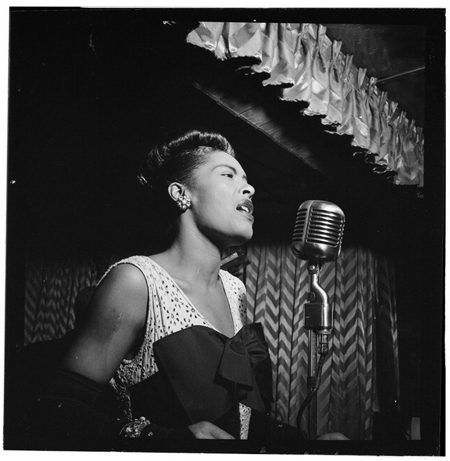 The Today in History section for July 10 features Jelly Roll Morton, one of jazz music's primary influences. From 1938 to 1948, William P. Gottlieb took over 1600 photographs of celebrated jazz artists. Carl Van Vechten also took a similar number of photographs of celebrities, including many figures from the Harlem Renaissance. The Library has two great resources for learning about the art of photography and how photographers capture and present a music performer's character on camera, which we have added to below.
Portrait Photography: Capturing Character
A photographic portrait focuses on depicting a person. Some portraits show only the person's face, but others show part or all of the person's body. A good portrait not only captures the person's appearance but also conveys something about his/her character or personality. Lighting, the person's pose and where their gaze is directed, props, and backgrounds are some of the ways in which a photographer can convey character.
Gottlieb faced a special challenge because many of his portrait photographs were not posed—they were candid, taken in the course of the musicians' normal activity.
Examine the photographs carefully.
What adjectives would you use to describe the portrayal of Billie Holiday?
What emotions does each photo provoke in you? Why do you think these emotions were sparked in you?
What features of the photo convey each singer's character?
Gottlieb identified the portrait of the singer Billie Holiday as one in which he had captured the subject's character or personality especially well.
What features evoke an emotional response? Consider factors such as the lighting, the background, where the photographer was positioned when he took the photo, and how much of Holiday's body is shown.
Listen to Gottlieb's comments on the Holiday photograph.
How do his comments deepen your understanding of Holiday's personality?
How do his comments deepen your understanding of the photograph and the art of portrait photography?
Perception Through Photography is a Library professional development activity. The goal of the activity is to explore how the perception of a photographer influences the composition of image through the analysis of photographs. The activity uses the Billie Holiday portrait shown above along with three others by Gottlieb and one by Van Vechten others in addition to comments from Mr. Gottlieb and background information on both photographers. Although written as a teacher professional development module, this activity can certainly be used with students.
Below are some additional resources to expand the activity using additional photographs of Holiday, Vaughan, Dizzy Gillespie, and other jazz singers. It could also be interesting to contrast the photographers' celebrity portraits to portraits of the photographers themselves: Gottlieb portraits, Van Vechten self-portraits.
Perception Through Photography activity (.pdf file)
The Power of a Poem Library of Congress Blog April 16, 2015
More Billie Holiday photographs
Billie Holiday performs "Strange Fruit" (YouTube® video)
Today in History: Billie Holiday primary source collection
Sarah Vaughan Gottlieb photographs
Dizzy Gillespie Van Vechten photographs
Dizzy Gillespie Gottlieb photographs
Gottlieb on photo of Ella Fitzgerald and Dizzy Gillespie
Gottlieb jazz singer photographs
Related Primary Source Spotlight resource sets