Today in History: Rare Children's Books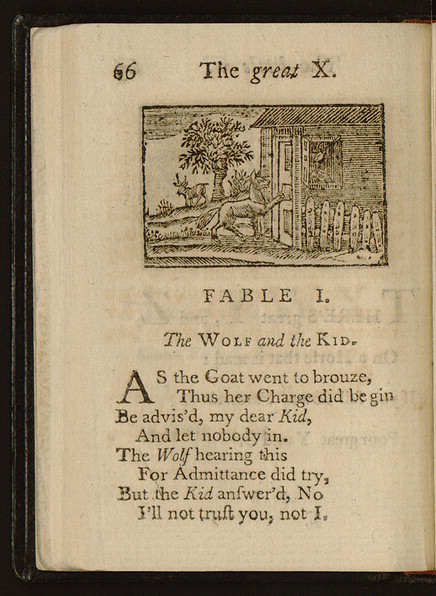 Today in History–March 13–the Library of Congress features rare children's books. Someone wrote "Enoch Brooks' Book, Princeton, March 13th, 1789″ in permanent ink in a Library of Congress copy of a rare children's Bible: A Curious Hieroglyphick Bible published by Isaiah Thomas. Learn more about this early American printer and literature publisher by visiting the Today in History section, then click the links below to access a selection of the children's books available from the digitized materials from the Library's Rare Book & Special Collections Division.
Access all of the digitized children's books.
A Apple Pie by Kate Greenaway. London; New York: F. Warne, [1900].
Page Turner – PDF (8.14MB) Bibliographic Information
The Arabian nights: Their Best-Known Tales / Edited By Kate Douglas Wiggin and Nora A. Smith ; illustrated By Maxfield Parrish. New York: Charles Scribner's Sons, 1909.
Page Turner –PDF (151.57MB) Bibliographic Information
The Baby's Own Aesop: Being the Fables Condensed in Rhyme, With Portable Morals Pictorially Pointed / By Walter Crane. Engraved and Printed in Colours By Edmund Evans. London; New York: George Routledge & Sons, 1887.
Page Turner – PDF (24.61KB) Bibliographic Information
Ballad of the Lost Hare/ By Margaret Sidney [pseud.]. Boston: D. Lothrop, c1882.
Page Turner – PDF (10.27KB) Bibliographic Information
Baseball A B C. New York: McLoughlin Bros., c1885.
Page Turner – PDF (7.21KB) Bibliographic Information
[Billedbog til Jonas Drewsen/compiled by Hans christian Andersen and A.L. Drewsen.] [Kjøbenhavn, ca. 1862]
Page Turner – PDF (77.49MB) Bibliographic Information
The Book of the Cat: With Facsimiles of Drawings In Colour / By Elisabeth F. Bonsall; and With Stories and Verses Written for the Pictures By Mabel Humphrey. New York: Fredrick A. Stokes Co., 1903.
Page Turner – PDF (77.72KB) Bibliographic Information
Bright-Wits, Prince of Mogadore / Burren Loughlin and L.L. Flood. New York; Boston: H.M. Caldwell Co., c1909.
Page Turner – PDF (37.41KB) Bibliographic Information
The Cheerful Cricket and Others / Jeannette Marks; Illustrated By Edith Brown.Boston: Small, Maynard & Co., 1907.
Page Turner – PDF (46.52KB) Bibliographic Information
Children of Our Town / Pictured By E. Mars and M. H. Squire; With Verses By Carolyn Wells. New York : R.H. Russell, [c1902].
Page Turner – PDF (11.96KB) Bibliographic Information
A Child's Garden of Verses / By Robert Louis Stevenson; Illustrated by Charles Robinson. New York: Charles Scribner's Sons, 1895.
Page Turner – PDF (52.05KB) Bibliographic Information
The Children's Object Book. London; New York: F. Warne & Co., [188-?].
Page Turner – PDF (6.12MB) Bibliographic Information
A Christmas Carol / By Charles Dickens; With Illustrations by A. C. Michael.
New York: Hodder and Stoughton, [1911].
Page Turner – PDF (50.24MB) Bibliographic Information
The Circus Procession. N.Y. [i.e. New York]: McLoughlin Bro's., c1888.
Page Turner – PDF (4.88MB) Bibliographic Information
The Complete Collection of Pictures & Songs / By Randolph Caldecott; Engraved and Printed By Edmund Evans; With a Preface By Austin Dobson.
London; New York: G. Routledge and Sons, 1887.
Page Turner – PDF (103.66MB) Bibliographic Information
A Curious Hieroglyphick Bible, or, Select Passages in the Old and New Testaments, Represented with Emblematical Figures, for the Amusement of Youth: Designed Chiefly to Familiarize Tender Age, in a Pleasing and Diverting Manner, with Early Ideas of the Holy Scriptures. The first Worcester edition. [Worcester]: Printed at Worcester, Massachusetts, by Isaiah Thomas and sold … at his bookstore, 1788
Page Turner – PDF (67.42 MB) – Bibliographic Information
Death and Burial of Poor Cock Robin / From Original Designs By H.L. Stephens. New-York: Hurd & Houghton, 1865.
Page Turner – PDF (8.04MB) Bibliographic Information
Denslow's Humpty Dumpty / Adapted and Illustrated by W.W. Denslow.
New York: G.W. Dillingham Co., 1903.
Page Turner – PDF (6.98MB) Bibliographic Information
Denslow's Mother Goose: Being the Old Familiar Rhymes and Jingles of Mother Goose / Edited and Illustrated by W.W. Denslow. New York: McClure, Phillips, 1901.
Page Turner –PDF (34.03KB) Bibliographic Information
Denslow's Three Bears /Adapted and Illustrated By W.W. Denslow. New York: G.W. Dillingham Co., 1903.
Page Turner – PDF (5.98KB) Bibliographic Information
Fables Choisies pour les Enfants et Illustrées Par B. de Monvel / La Fontaine. Paris: Plon-Nourrit & Cie, Imprimeurs-éditeurs, [1888].
Page Turner – PDF (11.23MB) Bibliographic Information
Gobolinks, or Shadow-Pictures for Young and Old/ By Ruth McEnery Stuart and Albert Bigelow Paine. New York: The Century Co., 1896.
Page Turner – PDF (16.93MB) Bibliographic Information
The Grasshopper Stories / by Elizabeth Davis Leavitt; With Illustrations By Maude Dewey Doan. [S.l. : s.n.], c1912 (Jacksonville, Ill.: Henderson & DePew, printers).
Page Turner – PDF (19.24MB) Bibliographic Information
Grosses bêtes & petites bêtes: [l'arche de Noé] / images et texte par André-Hellé. Paris : Tolmer & Cie, 13 quai d'Anjou, [1912]
Page Turner – PDF (19.13MB) Bibliographic Information
[Ivory hornbook] [realia]. [England : s.n., 18–]. 1 hornbook : ivory ; 12 x 7 cm.
Page Turner – Bibliographic Information
Jimmy Crow / By Edith Francis Foster. Boston: Dana Estes & Co., c1902.
Page Turner – PDF (16.84MB) Bibliographic Information
King Winter. Hamburg: Gustav W. Seitz, [ca. 1859].
Page Turner – PDF (17.70MB) Bibliographic Information
Little Ann and Other Poems / By Jane and Ann Taylor; Illustrated by Kate Greenaway; Printed in Colours By Edmund Evans. London; New York: George Routledge & Sons, [1883].
Page Turner – PDF (28.08 MB) Bibliographic Information
Little Songs of Long Ago: More Old Nursery Rhymes / the Original Tunes Harmonized By Alfred Moffat; Illustrated By H. Willebeek Le Mair. London: Augener: For the Book Trade, A. & C. Black; New-York: G. Schirmer, c1912.
Page Turner – PDF (12.87MB) Bibliographic Information
London Town / Designed and Illustrated By Thos. Crane & Ellen Houghton. London; New York: Marcus Ward & Co., [1883].
Page Turner – PDF (24.79MB) Bibliographic Information
Mary's Little Lamb: a Picture Guessing Story for Little Children: With 500 Pictures By the Author / By Edith Francis Foster. Salem, Mass.: S.E. Cassino, c1903.
Page Turner – PDF (1.42MB) Bibliographic Information
Mother Goose Finger Plays / Selected and Adapted By Irene Margaret Cullison. Philadelphia: George W. Jacobs & Co., [1915].
Page Turner – PDF (8.08MB) Bibliographic Information
My Very First Little German Book. New York, Hodder & Stoughton [19–?].
Page Turner – PDF (13.12MB) Bibliographic Information
Our Flag: Its History and Changes From 1620 to 1896. 2d ed. New Haven, Conn., Tuttle, Morehouse & Taylor, 1896.
Page Turner – PDF (11.52MB) Bibliographic Information
Our Old Nursery Rhymes / the Original Tunes Harmonized by Alfred Moffat; Illustrated By H. Willebeek Le Mair. London: Augener; New-York: G. Schirmer, c1911.
Page Turner – PDF (12.57MB) Bibliographic Information
The Pied Piper of Hamelin / By Robert Browning; Illustrated by Kate Greenaway. London; New York: Frederick Warne and Co., [1910].
Page Turner – PDF (15.96MB) Bibliographic Information

A Little Pretty Pocket-Book, Intended for the Instruction and Amusement of Little Master Tommy, and Pretty Miss Polly / Printed at Worcester, Massachusetts. By Isaiah Thomas, and Sold, Wholesale and Retail, at His Bookstore, 1787.
Page Turner –PDF (63.89MB) Bibliographic Information

The Raven / By Edgar Allan Poe; Illustrated By Gustave Doré; With comment By Edmund C. Stedman. New York: Harper & Brothers, 1884.
Page Turner – PDF (28.11MB) Bibliographic Information
Le Corbeau = The Raven: Poëme / Par Edgar Poe; Traduction Française de Stéphane Mallarmé; Avec Illustrations Par Édouard Manet. Paris: R. Lesclide, 1875.
Page Turner – PDF (13.76MB) Bibliographic Information
The Rocket Book / By Peter Newell. New York: Harper & Brothers, c1912.
Page Turner – PDF (13.71MB) Bibliographic Information
The Secret Garden / By Frances Hodgson Burnett. New York: F.A. Stokes, 1911.
Page Turner – PDF (173.31MB) Bibliographic Information
The Slant Book / by Peter Newell. New York: Harper & Brothers, 1910.
Page Turner – PDF (14.82MB) Bibliographic Information
The Song of Sixpence Picture Book: Containing Sing a Song of Sixpence, Princess Belle Etoile, An Alphabet of Old Friends / With the Original Coloured Designs by Walter Crane, including a Preface and Other Embellishments. London; New York: John Lane, The Bodley Head, [1909].
Page Turner – PDF (34.44MB) Bibliographic Information
The Square Book of Animals / By William Nicholson; Rhymes By Arthur Waugh. New York: R. H. Russell, 1900, c1899.
Page Turner – PDF (9.58MB) Bibliographic Information
Stories From Hans Andersen / With Illustrations By Edmund Dulac. London: Hodder & Stoughton, [c1911].
Page Turner – PDF ( 91.75MB) Bibliographic Information
The Story of the Three Little Pigs / With Drawings By L. Leslie Brooke.
Page Turner–PDF (9.58MB) Bibliographic Information
The Twelve Magic Changelings / By M.A. Glen. New York: Frederick A. Stokes Co., c1907.
Page Turner – PDF (10.57MB) Bibliographic Information
Uncle Tom's Cabin for Children / By Harriet Beecher Stowe; Adapted By Helen Ring Robinson; designed By W.M. Rhoads. Philadelphia: The Penn Publishing Co., [c1908].
Page Turner – PDF (36.86MB) Bibliographic Information
Vieilles Chansons pour les Petits Enfants: Avec Accompagnements / de Ch. M. Widor; Illustrations Par M.B. de Monvel. Paris: E. Plon, Nourrit et Cie, [191-].
Page Turner – PDF (16.39MB) Bibliographic Information
A Visit From Saint Nicholas. Illustrated From Drawings By F.O.C. Darley. New York, J. G. Gregory, c1862.
Page Turner – PDF (4.29MB) Bibliographic Information
William Tell Told Again / By P.G. Wodehouse; With Illustrations In colour By Philip Dadd, Described In Verse By John W. Houghton. London: Adam and Charles Black, 1904.
Page Turner – PDF (49.03MB) Bibliographic Information
A Wonder Book For Girls & Boys / By Nathaniel Hawthorne; with 60 designs By Walter Crane. Boston: Houghton, Mifflin, 1893, c1892.
Page Turner – PDF ( 82.92MB) Bibliographic Information
The Wonderful Wizard of Oz / By L. Frank Baum; With Pictures by W.W. Denslow. Chicago; New York: G.M. Hill Co., 1900, c1899.
Page Turner –PDF (113.66MB) Bibliographic Information
Related resources