Today in History: Thanksgiving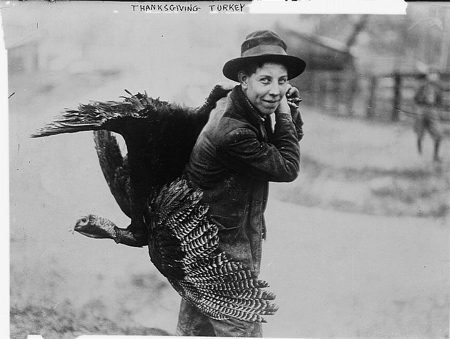 Today in History–November 26–the Library of Congress features Thanksgiving, designated by President George Washington on this date in 1789. Seventy-four years later, in 1863, Abraham Lincoln issued a Thanksgiving Proclamation that declared the last Thursday in November national Thanksgiving Day. Learn more about U.S. Thanksgiving traditions by visiting the Today in History section, then click the links below to access more primary sources, secondary sources, and teaching resources.
Thanksgiving primary source set with teacher's guide
Tom Bober's Favorite Thanksgiving primary sources
Thanksgiving polka song recording
The Leaves' song song recording
Founders Give Thanks: Congressional proclamation issued on October 11, 1782
Thanksgiving: select historical newspaper articles
Modern legislation related to Thanksgiving
Who Celebrated the "First Thanksgiving"?
Thanksgiving Remembered: Stories from History
In Celebration of Thanksgiving: The Meal, a Sermon, and a Poem
Somali Food Traditions at Thanksgiving event recording
Thanksgiving treasures
Thanksgiving featured images
Teaching with the Library of Congress blog posts
Inside Adams blog
Minerva's Kaleidoscope blog posts
More Library blog posts
Related resources