Finding Resources: America's Library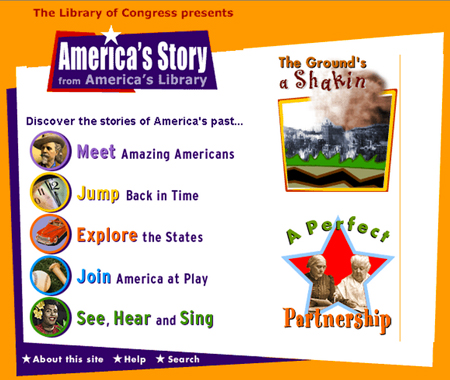 America's Library is filled with stories about the history and culture of the United States, richly embellished with all types of primary sources. The website is a great way to introduce younger students and lower level readers to the Library of Congress and primary sources.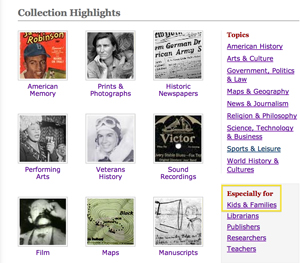 You can access America's Library by clicking the Kids & Families link, found in the main, center section—Collection Highlights—of the Library website homepage under the Especially for header.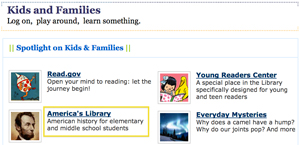 On the Kids and Families page, click the America's Library link—second from the top on the left—to be directed to the America's Library website.
America's Library is divided into five sections, each accessible from the website homepage. Each section has it's own homepage with links to the section's stories as well as rotating featured primary source, trivia questions and games.

Featured stories in the Meet Amazing Americans section, along with related primary source collections from TPS-Barat Primary Source Nexus are listed below.
Leaders & Statesmen
U.S. Presidents
More U.S. President primary source collections
Activists & Reformers
Adventurers & Explorers
More explorer primary source collections
Musicians & Composers
More musician primary source collections
Singer primary source collections
Opera primary source collections
Writers & Artists
More writer primary source collections
Industrialists & Entrepreneurs
Andrew Carnegie (PSN: Andrew Carnegie primary source collections)
Scientist & Inventors
More inventor primary source collections
Athletes & Entertainers
Theater primary source collections

Each time period in the Jump Back in Time section contains numerous stories. In addition, there is a widget that allows you to jump back in time and see events that happened in history on the day you were born. TPS-Barat has also compiled a list of themed link sets containing links to primary sources and other Library resources related to even more time periods in U.S. history. You'll find them under the TPS-Barat Resources menu: Themed Link Sets > History > U.S. History by Time Period. Another resource is the Time Period individual primary source sets & teaching activities.
Themed link set: U.S. History by Time Period
Time Period primary source sets & teaching activities

The Explore the States section includes stories about each of the 50 U.S. states. TPS-Barat has also curated lists of links to primary sources about nearly every state. You'll find them under the TPS-Barat Resources menu: Primary Source Picks > State Spotlight.

In the Join America at Play section you can find stories and sources about celebrations, vacations, sports, hobbies, and pastimes. Related content from TPS-Barat Primary Source Nexus is also linked to below.
Sports primary source collections
Quilting primary source collections
Dance primary source collections

The See, Hear and Sing section features films and songs.