Presidential Spotlight: John Quincy Adams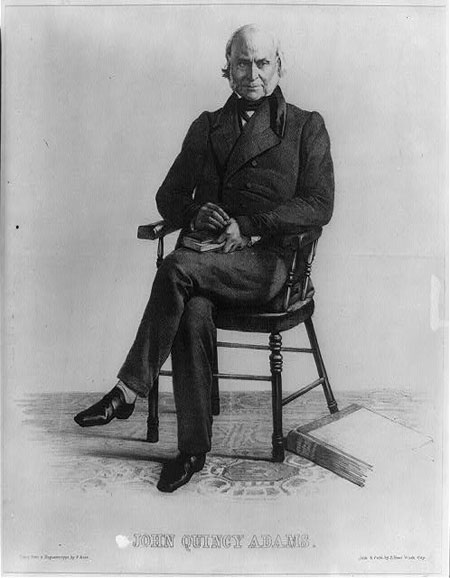 From America's Library:
Born: July 11, 1767
Died: Feb. 23, 1848

John Quincy Adams was the sixth president of the United States and the first son of a former president who himself became president. (George H.W. Bush and George W. Bush are the only other father-son presidents.)

John Quincy Adams was well known for his diplomatic success and most of all for his role as secretary of state under James Monroe. Adams had previously served as an ambassador to several European countries and as a U.S. senator from Massachusetts. He is the only president in history to serve in the U.S. House of Representatives after leaving the presidency. Adams's fierce sense of independent judgment meant that he never completely fit the mold of any political party, and he was surely the only president to have a pet alligator in the White House!
More John Quincy Adams stories from America's Library
John Quincy Adams presidential inauguration primary source set
John Quincy Adams residence image set
Funeral march, in memory of John Quincy Adams (sheet music)
John Quincy Adams correspondence (1777-1826)
John Quincy Adams's argument before the U.S. Supreme Court in the Amistad case in 1841
Books & other texts related to John Quincy Adams 1824-1913
Newspaper biographical clipping about John Quincy Adams 1815
John Quincy Adams historical newspaper coverage 1789-1849
Magazine articles by and about John Quincy Adams
Magazine articles about John Quincy Adams
John Quincy Adams National Historical Park
Louisa: The Extraordinary Life of Mrs. Adams Center for the Book video recording