Finding Resources: Veterans History Project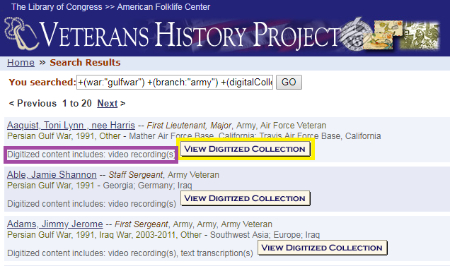 From the Library of Congress Veterans History Project Research Guide:
The Veterans History Project (VHP) of the Library of Congress American Folklife Center collects, preserves, and makes accessible the firsthand narratives of United States military veterans from World War I through the present. In addition to unedited audio- and video-recorded oral history interviews, VHP accepts memoirs and collections of original photographs, letters, diaries, maps and other historical documents from any American veteran who served in the military from World War I through the present.
These primary sources offer insider views and provide varied perspectives, adding details, nuance and, often, a sense of immediacy that make history come alive.
The Understanding VHP Collections section provides information on how the collections are organized and how to determine if items are available digitally.
The Searching VHP Collections section features a video tutorial on using the online database. More tips for searching the collections are available in this Folklife Today blog post, "Here's Looking at You, Finding Aid".
The Using Digitized VHP Collections section offers further insight into finding and downloading digitized collection materials. You can also browse digital collection items by exploring the stories grouped together in the Experiencing War section of the VHP Collections.
Also, be sure to check out the following resource set: Primary Source Learning: Veteran Teaching Resources & Strategies.
More veteran primary sources & resources