Last Updated on June 8, 2022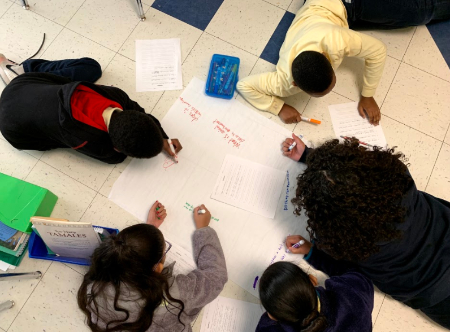 The Right Question Institute (RQI) is an educational nonprofit that aims to make democracy work better by teaching a strategy that allows all people to learn to ask better questions and participate more effectively in decisions that affect them. RQI's education program offers online courses and free resources on the Question Formulation Technique (QFT), a practical yet transformational strategy that teaches students how to ask, improve upon, and pursue their own questions. 
In collaboration with the Library of Congress Teaching with Primary Sources (TPS) program, RQI is developing a free professional learning program that supports educators to facilitate more effective, student-centered, inquiry-based primary source learning. The program will be offered as an online course later this year, and as a set of standalone resources. Several of these new resources are now available. Sign up for free on RQI's website to access them and to stay updated as new resources become available, including RQI's upcoming online course, "Teaching Students to Ask Their Own Primary Source Questions". 
Understand the QFT
Download the QFT on One Slide you see below for a handy, one-page snapshot of the process.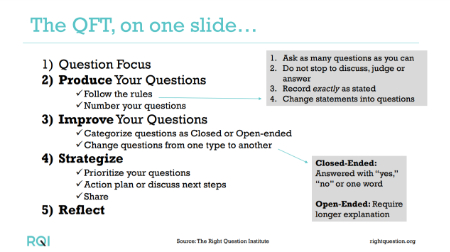 Then check out RQI's Teaching + Learning Resources page for everything you need to integrate the QFT into your classroom, including a 2-page teacher guide and a downloadable powerpoint template.
Learn How the QFT Works with Primary Sources
Watch this recorded webinar, Introduction to the Question Formulation Technique for Primary Source Learning, hosted by the Library of Congress, to actively experience the QFT process and learn why you might use it with primary sources. Bring a pen and paper to follow along! 
Next, see how social studies teacher Johnny Walker and his high school class put the QFT in action on a primary source. Hear directly from students as they use their own questions to analyze, discuss, research, and write about a primary source political cartoon. 
After, explore one way you might strategically integrate components of the QFT protocol with components of the TPS Primary Source Analysis tool (observe-reflect-question) into a new hybrid approach that maximizes primary source learning. 
QFT-Primary Source Lessons
RQI worked with several teachers this past year to implement their own QFT primary source lesson and document the results.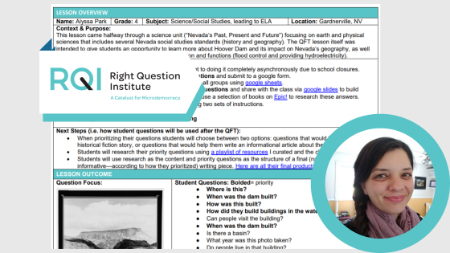 4th Grade Lesson Snapshot

 Explore Alyssa Park's 4th grade lesson on the Hoover Dam, which makes creative use of Prezi to zoom in and out on a photograph and provokes over 200 questions from students. 
12th Grade ELA Lesson Snapshot

 Check out high school ELA teacher Dana Huff's primary source QFT on convict leasing. It's a new and emotionally heavy concept students are introduced to while reading

Homegoing

by Yaa Gyasi. Hear from students what they discovered by leading their own discussion on the topic.  

Pilot Course Lesson Plans Access these lessons plans from the TPS Teachers Network; all were developed by participants in the March 2021 pilot group of our online course, "Teaching Students to Ask Their Own Primary Source Questions".
Plan Your Own QFT-Primary Source Lesson
RQI's newly updated Lesson Planning Workbook takes you step by step through planning your own QFT primary source lesson. It spells out all the tips you need for designing an effective QFT, from picking the right QFocus (prompt for asking questions) to tailoring your instructions so that the questions best align with the next steps of learning.
QFT Professional Development
Check out RQI's series of four, self-paced on-demand modules as well as the NEA TPS micro-credential, The Question Formulation Technique & Primary Sources.