Finding Resources: What's Available When LOC.gov Is Offline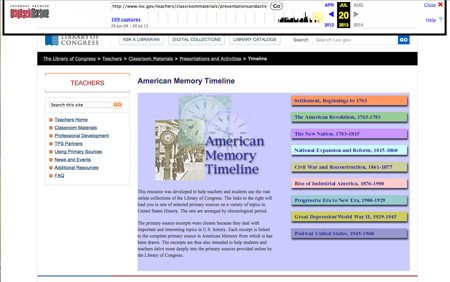 Sometimes LOC.gov and some of its associated sites are not available. Whether that's because of maintenance or a government shutdown, don't despair. Here are some ways to access great Library resources.
legislative information on Congress.gov available
Library of Congress Flickr account
image sets available, including access to larger images and bibliographic information
Library of Congress YouTube channel
videos available
PSN primary source activities
Internet Archive Wayback Machine
While this site generally will not provide access to individual primary sources (there are exceptions), it can be used to access web-page content. Just copy and paste a Library of Congress URL ending in .htm, .html, .asp, or .aspx (and some URLs without an extension ending) into the search box at the top of the Wayback Machine calendar page and click the "Go Wayback" button.
EX:  http://www.loc.gov/teachers/classroommaterials/presentationsandactivities/presentations/timeline/depwwii/race/amateur.html
The pages are navigable within the archive so long as a web page capture was made at least once in the past.