Learning from the Source: Digital Stories of Our Heroes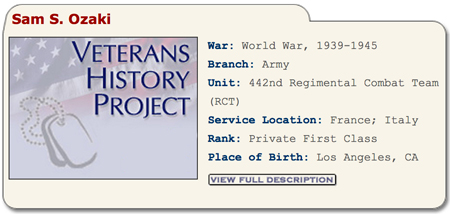 Engage students with a real-world activity that has them learning about U.S. history while adding to the collective American memory. This project allows students to learn and use interview and digital presentation skills to discover, elicit, and relate the stories of local veterans and others who contributed during times of conflict.
To complete this project, students will . . .
visit the Library of Congress website and other websites to familiarize themselves with the time period or events surrounding the story of a local hero.
gain an understanding and appreciation of oral histories.
learn and practice techniques for conducting successful interviews.
create a digital story that synthesizes their project learnings.
Objectives
Upon completing this project, students will be able to . . .
identify different types of primary resources.
describe the features and functions of oral histories.
prepare for, conduct, and document an effective interview.
create a digital story that relays an important event in our country's history and the first-hand experience of an individual who participated in the event.
Standards
This project meets the following Common Core English Language Arts Standards for grades 6-12*.
Reading Informational Text & Literacy in History/ Standards: 4, 6, 8, 9, 10
Writing Standards: 3, 4, 5, 6, 7, 8, 9, 10
Speaking and Listening Standards: 1, 4, 5, 6
Guidelines
Prepare for implementation
Determine if students will be interviewing a veteran or another type of local hero. If the latter, you will need to gather background information on the event(s) and time period related to the hero's story.
You will need access to computers and the Internet, video or sound equipment, video or sound transfer and editing tools, presentation tools.
Students will need basic understanding of primary sources; oral histories; and interview skills and strategies to complete this project.
Be flexible with implementation
If you do not plan to submit class interview(s) to the Library's Veterans History Project, interviewees need not be veterans.
If access to video equipment and tools is not available, consider making an audio recording of the interview instead.
If technology access is limited and/or technology skills are low, consider enlisting older siblings, parents, or community members to assist with recording downloading and editing tasks, as well as creation of the interview transcription.
Remember that you may choose to complete only those portions of the project best suited to your students.
Allow sufficient time for implementation
To complete this project, students will need several class sessions to prepare for the interview and time in class or outside of class to conduct the interview and contribute to the creation of a digital story presentation.
Directions
Project roles
In completing this project, each student should fulfill the role of researcher; other roles may be fulfilled by individual students, student groups, or, if necessary, by adults.
Researcher: researches historical topic and creates interview questions
Project Manager: oversees entire project and makes sure each component is completed
Secretary: prepares and completes all forms and correspondence
Event Coordinator: prepares for and oversees the interview
Recording Technician: prepares and tests equipment and records interview (you may also want a still photographer)
Interviewer: asks prepared and follow-up questions during the interview
Editor: downloads recording and selects content for inclusion in the digital story presentation
Digital Storyteller: creates or helps to create the final digital story presentation
Pre-Interview Tasks 
Provide students with a basic introduction to primary sources and oral histories in particular.
Individually or collectively, have students read, "Making Sense of Oral History: How Do Historians Use It?" from History Matters (you may choose to provide students with a summary of the information instead). After, discuss the article as a class and answer any questions students may have.
Individually or collectively, have students review oral histories from the Veterans History Project or another oral history collection (see materials list below).
Determine interviewee(s).
Introduce students to the historical event and time period about which the interviewee will be speaking and direct them to conduct background research (e.g., World War II primary source link set, 9/11 primary source collection).
Teach interview skills and strategies.
Direct students to create at least 10 interview questions individually or in groups (see sample questions).
As a class, revise the interview questions.
Send the documents listed below to the interviewee (allow 1 week if sending electronically and 2 weeks if sending by traditional mail).
Individually or collectively, have students review the Capturing an oral history: tips for students document and, if appropriate, the Veterans History Project field kit.
Interview Tasks
Prepare and complete school or district media release forms for all interviewers.
Prepare and test video or audio equipment.
Conduct and document the interview.
Post-Interview Tasks
Download the video or audio.
Save a digital master copy of the complete interview and a second copy of the digital file that will be used for editing.
View/listen to the interview and create a video/audio log; if possible, complete an interview transcription.
Review the digital editing file to select content (may be video clips, audio clips, or simply photos and transcriptions) for inclusion in the digital story presentation.
Create a digital story presentation.
Send a thank-you note and, if possible, provide a gift to the interviewee (e.g., a copy of the master digital file, a copy of the video log or transcript, pictures, a printout or file of the digital story presentation, a chapbook containing student reflections of the interview).
As a class, discuss learnings from the interview; you may also choose to have students create a written reflection.

What information or story did students particularly interesting?
What new information did students learn about the social and historical events described by the interviewee?
How did the interviewee's information and stories compare to the background research students conducted?
How well did the interviewee support his/her claims?
Did the information the interviewee provided seem believable and reliable? Why or why not?
What new questions do students have about the social and historical events described by the interviewee? Where might they look for answers to these questions?
Materials
Primary Sources
Learning about oral history
Learning from oral history
Interviews
Doing oral history
Extension Activities
* NOTE: students as young as grade 4 and through high school have successfully completed this project.