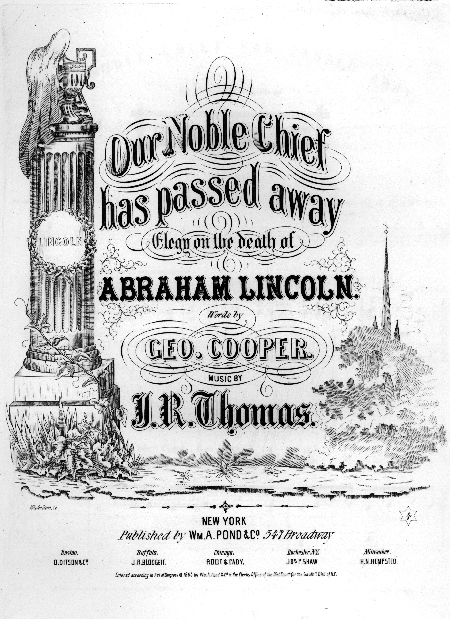 From the Library of Congress bicentennial exhibition—With Malice Toward None—we learn a bit about the profound effect Abraham Lincoln's death had on people all over the world.
The assassination of President Abraham Lincoln on Good Friday, April 14, 1865, had a tremendous impact both in the United States and abroad. People in Great Britain, which had favored the South, mourned as if Lincoln had been their leader. France, whose citizens had made no secret of their sympathy for the Union, paid tribute in verse and song. All eyes were on this struggling American democracy, so aptly personified in the person of Abraham Lincoln, and the world mourned his passing.

The pursuit of the assassin, John Wilkes Booth, was one of the most extensive manhunts ever mounted by the United States government. The search lasted twelve days, by which time the body of President Lincoln, transported by rail on a thirteen-day journey to Springfield, Illinois, for burial, was half way to its resting place. Unending crowds of mourners lined the tracks between Washington and Springfield to pay their final respects to the martyred President Abraham Lincoln.
Artists, too, mourned Abraham Lincoln's passing and paid tribute to the fallen leader. Below you will find links to songs, poems, and sculptures that mourned Lincoln or paid tribute to him. What more can you learn about how people felt about Lincoln, his death, his character and his achievements by analyzing these works of art?
You may choose to have students analyze multiple sources of one type of artistic work or one source of each type. As noted in the Analyzing Primary Source Images: Common Core State Standards Alignment post, primary source analyses map very well to the Common Core State Standards. For this activity, use the Common Core English Language Arts Standards for your students' grade level as a guide for developing analysis questions. Some additional analysis questions are provided below.
How did the artist feel about Lincoln? Use details from the work to provide support for your reasoning.
Who do you think was the audience for this work? Use details from the work and the bibliographic record to support your response.
What aspects of Lincoln's charter or his achievements does the work highlight? Do you think these are the most significant aspects of Lincoln's character or achievements? Explain your conclusions.
Do you think the work is an appropriate memorial to Lincoln? Use details from the work to provide support for your viewpoint.
Which work do you find most effective in stimulating listeners, readers, or viewers to remember significant aspects of Lincoln's life? Explain your response.
Sheet music and audio files*
Poetry
Sculpture
More learning activities
How do the songs written in tribute to Lincoln after his death compare to this march written in tribute to Lincoln and published in 1862 while he was still alive? President Lincoln's Grand March 1862 (music)
If you or one of your students can read and play music, analyze the lyrics and/or music of more songs. Lincoln tribute sheet music.
For more learning activities related to Walt Whitman & Lincoln, see Learning from the Source: Putting Loss into Words.
What is the role of place in the Lincoln sculptures?
How does the addition of people to these photos of Lincoln memorials affect how you view the sculpture tributes?
You might also want to learn more about the assassination of Abraham Lincoln and check out this activity idea from the Teaching with the Library of Congress blog: Point of View in Statues of Abraham Lincoln: Three Looks at a Leader – A Primary Source Starter.
What other activities can you generate using primary sources from the Lincoln tribute primary source set?
* compiled by Benjamin Robert Tubb