Teaching Now: Examining Social Justice Through Historical, Classic and Contemporary Sources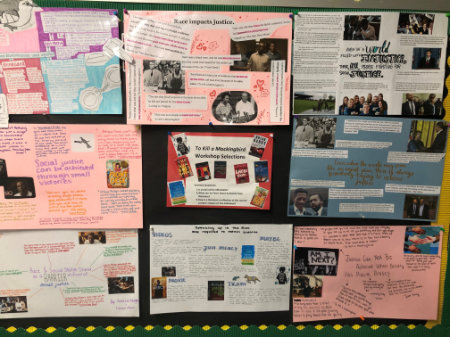 This is a guest post from Kasey Short, an eighth-grade English teacher at Charlotte Country Day school in North Carolina. 
When I moved from 6th to 8th grade last year, one thing I thought about a lot was how I would approach teaching To Kill a Mockingbird. I knew that I wanted to provide historical context as well as the perspective of recent cases in which people of color have been unjustly found guilty. I also wanted to showcase the voices of people who had been wrongly accused and the voices of people who helped the accused prove their innocence in addition to providing students with a counter example of Mayella by showing an example what it looks like to tell the truth about unwanted physical contact. 
Students can begin the unit by examining a set of primary source images of signs enforcing racial discrimination to spark inquiry. You may have students analyze the photographs using the primary source analysis tool individually, in groups, or via a gallery walk. After, have students share their observations, reflections and questions. You can use these to lead into a consideration of the following essential questions that are then woven throughout the unit to guide student reading, discussions and reflections: 
Is social justice achievable? 

What can we learn about humanity from literature?

How is literature a reflection of the current society's impact on the individual? 
Next, students review examples of Jim Crow laws, then respond to the following questions: 
Define "Jim Crow" in your own words.

What are 3 words that describe the Jim Crow south? Explain why. 

How have Jim Crow laws impacted America? 

How do you predict the novel being set in the Jim Crow south will impact the characters and the plot of

To Kill a Mockingbird

? Keep in mind that the novel is set in the 1930s but was written years later and first published in 1960.  
Students then examine primary sources about the "Scottsboro Nine" in order to better understand the historical context in which Harper Lee wrote To Kill a Mockingbird.  First I read the Scottsboro boys must not die mass meeting broadside, modeling questions, connections and details that stuck out to me. I write these out as informal notes. Students then work in groups of 3-5 to analyze the remaining sources (see below). All students within each group should analyze a different source, using the process just modeled; remind students to review the source records as well. After, students share out with their group and synthesize the information they gathered by making a list of which facts overlapped between sources. Finally, we follow up with a whole class discussion.
After examining the sources, we discuss facts as a class with students noting those that stood out to them and ways in which they think Jim Crow laws may have impacted the outcome of the case. As students read To Kill a Mockingbird, they continue to refer to the Scottsboro Boys case and discuss how the real case likely influenced the fictional narrative created by Harper Lee. During this time students are also individually read a own contemporary novel, chosen from the list below. Students may also come to me with individual requests. In the past, student choices included The Hate You Give by Angie Thomas and Dear Martin by Nic Stone. This year I'm adding Punching the Air by Ibi Zoboi and Yusef Salaam.
When I first taught this unit, the movie Just Mercy came out right in the middle of it and I was able to arrange for a field trip to watch it in a local theater. The movie is based on the true story of Bryan Stevenson's unrelenting work towards justice for wrongfully convicted people on death row; it inspires hope and demonstrates the power of speaking out against injustice and inequality. Just Mercy the movie provided students with tremendous insight and continued to spark their interest in social justice themes. 
Once students finish reading the novels, they begin researching other examples of social justice. They examined various contemporary cases. I provided the resources below to students but they also do research to find additional resources using our school library databases and searching online. While viewing/reading the sources, students note examples of injustice and justice that they find on the "Social Justice Brainstorming" handout which helps them compile information and connect it to To Kill a Mockingbird, the novel they chose, and Just Mercy. 
Students then synthesize the various lessons they learned about social justice during the unit and create a social justice statement of their own. The statement must consider various sources and apply to the world today. Below are some examples of past student's social justice statements.
"Social justice can be achieved through small victories."

"Speaking up is the first step required to obtain justice."

"Even in a world filled with injustice, there are people fighting for social justice."

"Race and social status stand as a barrier in front of social justice."
Once students write their statements, they gather additional quotes, examples and images to support their statements, using these to make a visual to showcase to present to their peers. The presentations provide evidence of students' academic and social-emotional  growth. 
I noticed that as they progressed through their research they changed the tense from past to present tense when speaking about injustice. Instead of saying how people were treated unjustly, they begin to discuss how people are treated unjustly in our world today. 
At the end of this unit, I found that students spoke with compassion and listened to the other presentations with a level of focus and respect that far surpassed previous oral presentations. They were able to synthesize literature, primary and secondary sources to demonstrate the lessons they learned about humanity through a clear thesis statement. They demonstrated empathy, compassion and a deeper understanding of how injustice impacts individuals and communities. They also recognized that, "Even in a world filled with injustice, there are people fighting for social justice." They have learned a powerful lesson: that they have the potential to work towards a more just society. 
2021 Update from Kasey
Book choices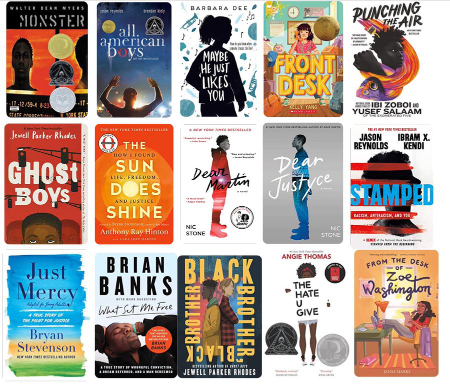 Adaptations for hybrid learning: all of the visuals were created digitally and then students made movies instead of giving live presentations.
Related resources