Literature Links: To Kill a Mockingbird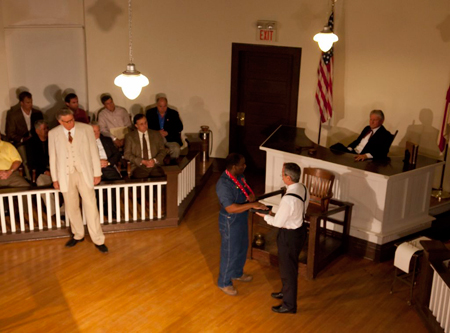 Harper Lee's To Kill a Mockingbird is one of the selections in the Books That Shaped America online exhibition. The curator's note reads:
This 1960 Pulitzer Prize winner was an immediate critical and financial success for its author, with more than 30 million copies in print to date. Harper Lee created one of the most enduring and heroic characters in all of American literature in Atticus Finch, the small-town lawyer who defended a wrongly accused black man. The book's importance was recognized by the 1961 Washington Post reviewer: "A hundred pounds of sermons on tolerance, or an equal measure of invective deploring the lack of it, will weigh far less in the scale of enlightenment than a mere eighteen ounces of new fiction bearing the title To Kill a Mockingbird."
If your students read this influential American novel, below are some ideas for incorporating primary sources from the Library of Congress into your novel study unit.
From Megan Kohlman, a Library Media Specialist at Augusta High School in Augusta, Kansas.
Overview

This lesson was designed to help ninth grade students build background knowledge, particularly  on the topic of segregation and race relations in the South, before reading the novel To Kill a  Mockingbird.  I started the lesson by having students recall what they know about segregation. Their answers were fairly basic, ideas like "it's a  separation" and "it's usually race or gender based."

Activity Resources

Paper Primary Source Analysis Tool

Digital Primary Source Analysis Tool

Teacher Guides for Analyzing Primary Sources

Examples of Jim Crow laws American RadioWorks

Political cartoons

Personal histories from American RadioWorks

Photographs

Activity Flow

Activity Reflection

The novel study teacher, Ms. Julie Barker, said, "The lesson Mrs. Kohlman taught to my Freshman English students was significant in jump starting their interest in and understanding of the  historical background for To Kill a Mockingbird. The students were able to view and read  primary sources from the time of segregation and interact, question, and struggle with the history  in a hands­-on environment rather than a sit­-and-­get lecture environment. Many students had very  little background knowledge of the time period and were shocked at some of the events they read  about. If it hadn't been for the primary sources and Mrs. Kohlman's guidance, they may not have  believed the information. Students were then very eager to start reading the book, which is unusual  for freshmen."
From Kathleen Prody & Nicolet Whearty via the Library of Congress Lesson Plans page.
Students gain a sense of the living history that surrounds the novel To Kill a Mockingbird. Through studying primary source materials from the Library of Congress and other online resources, students of all backgrounds may better grasp how historical events and human forces have shaped relationships between black and white, and rich and poor cultures of our country.

This unit guides students on a journey through the Depression Era in the 1930s. Activities familiarize the students with Southern experiences through the study of the novel and African American experiences through the examination of primary sources.

Historical Understanding of Setting
Exploring Oral History
Writing Connection
Getting into the Novel
Mob Justice
Pulling it all Together
Examining Social Justice Through Historical, Classic and Contemporary Sources
This lesson from Kasey Short, an eighth-grade English teacher at Charlotte Country Day school in North Carolina, provides students with historical perspective and showcases contemporary voices of people wrongly accused and those who helped the accused prove their innocence.
Comparing Text Scenes with Play Scenes
Use this set of images from scenes from the play "To Kill A Mockingbird", performed in Monroeville, Alabama in 2010, to investigate how scenes from the text were interpreted on stage.
The Importance of Literature
Read how the U.S. House of Representatives and U.S. Senate paid homage to Harper Lee's novel.