Learning from the Source: Cartoonist Commentary-Vietnam War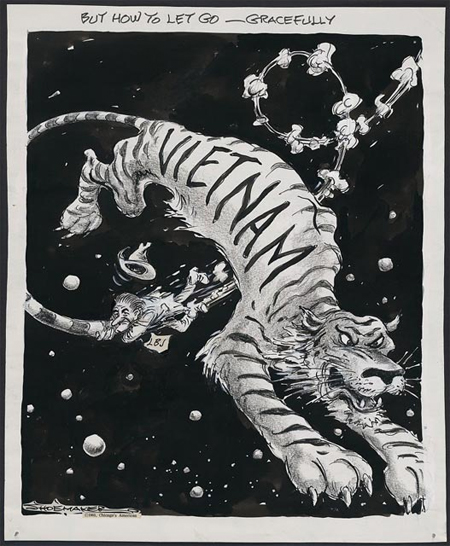 U.S. involvement in the Vietnam War lasted more than a decade. Have students analyze political cartoons from the primary source sets below to consider different issues related to this war and how cartoonists' perspectives of U.S. involvement evolved over time. If students are not practiced at analyzing political cartoons, use the accompanying resources to help prepare and guide students in this type of primary source analysis. You may choose to have students analyze the cartoons twice, first without reviewing the curator notes/bibliographic information and again after. Look to the Common Core State Standards alignments below to inform activity tasks. After, have students create their own political cartoons to demonstrate understandings they gained of the Vietnam War (CCSS Writing standards 4, 5, 6, 7, 9, 10).
Enduring Understandings time, place, and culture influence our perspectives on people and issues; different perspectives affect the interpretation of history
Focus Question What perspectives did U.S. cartoonists provide of the Vietnam War during the course of U.S. involvement?
Vietnam War Political Cartoons 1965

Click the cartoons to view larger images; click the cartoon title to view curator notes/bibliographic information.
Vietnam War Political Cartoons 1961-1972
| | | |
| --- | --- | --- |
| 1961 – What to do till the Peace Corps comes | | 1963 – Why Don't We Have the Thirty Budgets of Ben Franklin's Day? |
| 1964 – Midnight reading | 1966 – They won't get us to the conference table . . . will they? | 1967 – LBJ and Vietnam spectres |
| 1968 – Uncle Sam carrying an M-16 rifle | 1969 – The Mini-and-Maxi Era | 1970 – How do I let go! |
|  1971 – My last employment? Vietnam. | 1972 – Now, as I was saying four years ago– |  1973 –  Can't you grow up in 12 years?? |
Understanding & Analyzing Political Cartoons
The Cartoonists
The Ungentlemanly Art: Political Illustrations Cartoon America online exhibition
Clifford H. (Baldy) Baldowski
Herb Block
Bill Mauldin
Pat Oliphant
Vaughn Shoemaker
Paul Szep
Edmund Valtman
Historical Resources
Common Core State Standards Alignment
English Language Arts Standards » History/Social Studies » Grades 6-8
RH.6-8.1, RH.9-10.1, RH.11-12.1
RH.6-8.2, RH.9-10.2, RH.11-12.2
RH.6-8.6, RH.9-10.6, RH.11-12.6
RH.6-8.8, RH.9-10.8, RH.11-12.8
RH.6-8.9, RH.9-10.9, RH.11-12.9