Primary Source Learning: The Young Nation Primary Source Set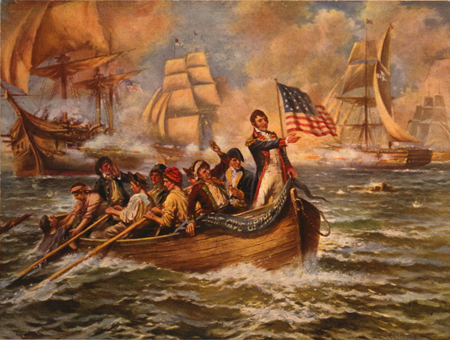 Have students use the primary sources in this set to tell a story about the early years of the United States as a young, new nation. The story may be in digital or print form and could be nonfiction, fiction, poetry, or even a song. Click on each thumbnail image below to access the full size primary source. You may also use this primary set for a found poetry activity (click the previous link). Be sure to take a look at the New Nation lesson plans (see below). For more primary source sets and other teaching and learning resources by time period, access the U.S. History by Time Period themed link set.
"Evacuation day" Washington's Triumphal Entry in New York City

U.S. Map Agreeable to Peace of 1783

Franklin in the National Convention




Washington's inauguration at Philadelphia




John Hancock mansion with carriage drawn



Battle of Lake Erie

Perry's Victory on Lake Erie: Sep. 10, 1813

The Battle of New Orleans

The Battle of New Orleans, fought Jan. 8, 1814

The Taking of the City of Washington in America

U.S. Capitol after Burning by the British

Andrew Jackson with Tennessee forces

Alexander Hamilton's Speech Notes Proposing a Plan of Government 1787

Meriwether Lewis to Thomas Jefferson, 1806
(transcription)

Articles of a Treaty: U.S. & Shawanoe Nation

Mrs. Mary Dewees's Journal from Philadelphia to Kentucky
(transcription)
New nation lesson plans
The Bill of Rights: Debating the Amendments
The Constitution: Counter Revolution or National Salvation?
The Constitution: Drafting a More Perfect Union
Geography and Its Impact on Colonial Life
George Washington: First in War, First in Peace, and First in the Hearts of His Countrymen
Thomas Jefferson'sLibrary: Making the Case for a National Library
The U.S. Constitution: Continuity and Change in the Governing of the United States
Primary source sets by time period
American Revolution primary source set
Expansion & Reform primary source set
Civil War & Reconstruction primary source set
Industrial America primary source set
Progressive Era primary source set
Great Depression & World War II primary source set
Primary Source Learning: Postwar United States (1945-1968) primary source set