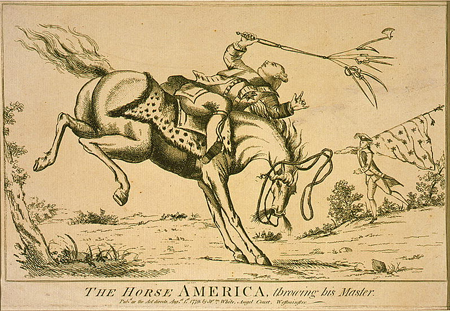 Have students use the primary sources in this set to tell a story about the American Revolution. The story may be in digital or print form and could be nonfiction, fiction, poetry, or even a song. Click on each thumbnail image below to access the full size primary source. You may also use this primary set for a found poetry activity (click the previous link). Be sure to take a look at other American revolution lesson plans (see below). For more primary source sets and other teaching and learning resources by time period, access the U.S. History by Time Period themed link set.
Massacre, King Street Boston March 5, 1770

Destruction of tea at Boston Harbor

Troop Engagement Between Boston & Concord (1775)




Patrick Henry, "Give me liberty, or give me death!"




The Battle of Lexington




Ethan Allen at Ticonderoga

"Original Rough draught" of the Declaration of Independence

Yankee Doodle 1776

Burning of New York

Washington Crossing the Delaware

Molly Pitcher the Heroine of Monmouth

Burgoyne's Surrender at Saratoga

Merchants & Traders: Repeal the Import Tax

To His Excellency George Washington

Letter from Phillis Wheatley to Dear Obour

No Stamped Paper to Be Had
American Revolution lesson plans
The Declaration of Independence: Created Equal?
The Declaration of Independence: From Rough Draft to Proclamation
George Washington: First in War, First in Peace, and First in the Hearts of His Countrymen
Political Cartoons: Finding Point of View
Primary source sets by time period
Young Nation primary source set
Expansion & Reform primary source set
Civil War & Reconstruction primary source set
Industrial America primary source set
Industrial America primary source set
Progressive Era primary source set