Finding Resources: Newspaper Navigator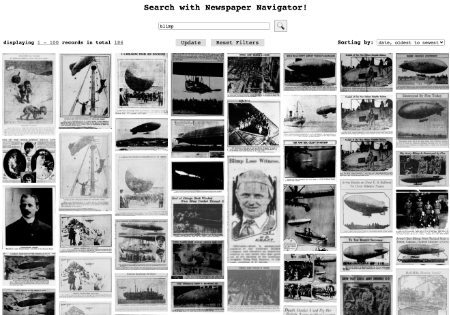 The Newspaper Navigator is an app that provides a way to search and browse visual content—photos, illustrations, maps, comics, editorial cartoons, headlines and advertisements—from Chronicling America between the years of 1900-1963.
When using the search function, you are first searching headlines and captions related to the visual content. Type your search term(s) into the box and click the magnifying glass button. You can filter your search by state (all 50 plus the District of Columbia and Puerto Rico) where the newspaper was published and by year or year range. Below you can see the results for a search for president wilson across all locations from 1913-1921. The 3,181 records found are sorted by oldest to newest (default).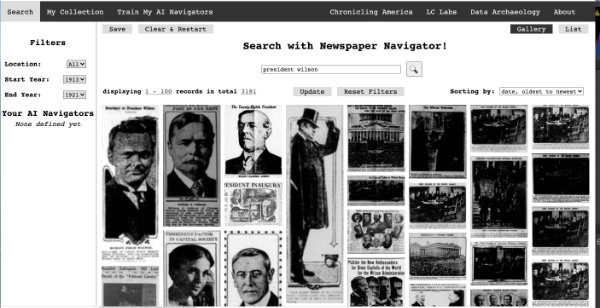 In the results list, roll over an image to get more information and/or add one or more images to a collection.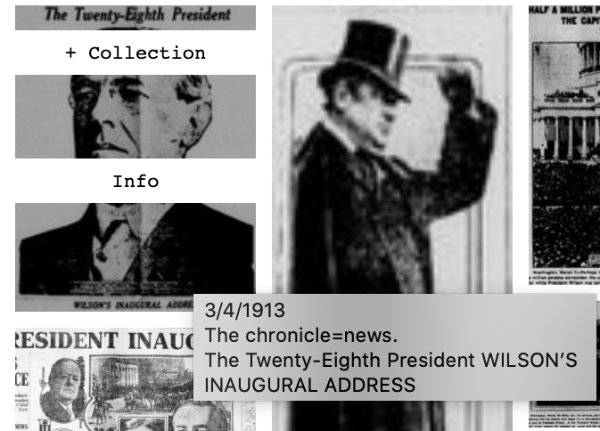 Click on Info to learn the publication date of the image, read the caption* (notice how the search terms are highlighted), download a high-resolution image, view the full issue of the newspaper that published the image and learn more about the publication, and access a basic citation. Click the X to exit back to the search results.
*Note: All text is generated via Optical Character Recognition (OCR), which is an imperfect tool, so you may sometimes notice errors or odd-looking text.

Click Collection on images you would like to add to your collection. Any selected image can be deselected by clicking Remove on the image.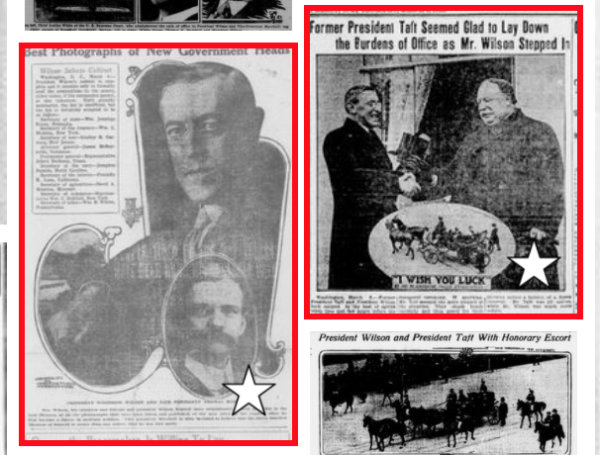 View your selected images in your collection by clicking the My Collection button at the top of the page to the right of the Search button. You may deselect images by clicking Remove and then clicking the Update button above the image set. Click the Save button near the top left to generate a custom URL that will lead you back to this collection. Alternatively, you can click the Clear & Restart button to remove all images and begin a new search.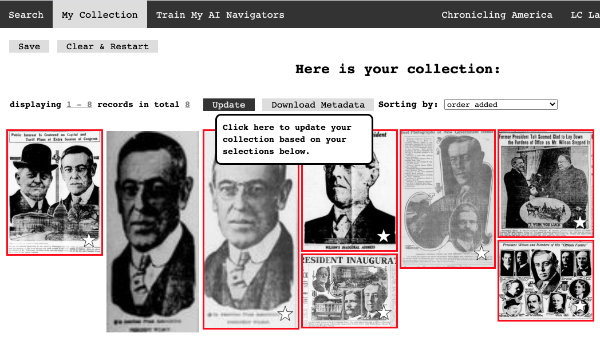 To browse for additional images that are visually similar to the ones saved to your collection, click the Train My AI Navigators button. The first image in your collection will be selected by default and the results shown will be based on images the app found to be visually similar to that selected image. To refine the results, first select additional images by rolling over images and clicking Add; once selected, you may deselect an image by clicking Remove