NHD 2023: Teaching Resources & Strategies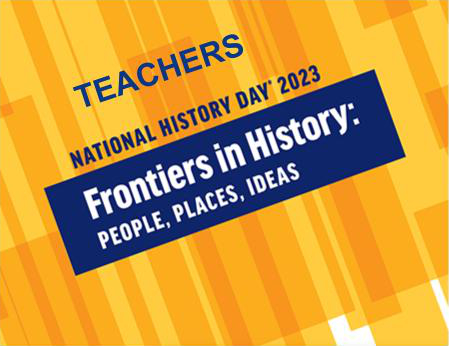 Educators, check out these resources and strategies to help you as you guide students through the development of their National History Day (NHD) projects.
Overview
Understanding NHD Projects
Exploring the theme
Each year NHD chooses a particular theme that must be the focus of student projects. Before doing anything else, make sure you understand the theme.
Consider how the theme of Frontiers in History relates to people, places, events, technologies, and issues students learned about earlier this year and in previous years.
Think about what the theme means to you personally and how it might relate to your students.
Instruct students to complete the NHD 2023 Theme Graphic Organizer. fillable PDF
Direct students to the NHD 2023: Topic Selection, Research, Sources & More post for tips and resources (coming soon) as they work on their projects. Sections include:

Investigating & narrowing topic choices

Getting started on your project

Researching your topic
Selecting & using sources
Citing sources
Putting it all together