Finding Resources: American Archive of Public Broadcasting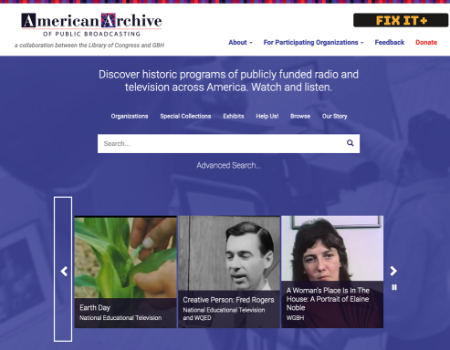 OVERVIEW
The American Archive of Public Broadcasting (AAPB) is a collaboration between the Library of Congress and WGBH Educational Foundation. It was founded in 2013 "to coordinate a national effort to identify, preserve, and make accessible as much as possible the historical record of publicly funded broadcasting in the U.S." It now features contributors from nearly every state.
The AAPB digital collections are available for online streaming and contain more than 50,000 public television and radio programs from the late 1930s to the present day, including interviews with leading political and cultural figures as well as ordinary people, national newscasts, news from diverse communities, revealing documentaries, and live event coverage. For more information, review the AAPB FAQ.
BROWSING
To get better acquainted with the content of the collections, begin by browsing by topic or through one or more of the special section listed below. Additionally, check into the What's New section to learn about recent additions to the archive
Exhibits: curators contextualize digitized primary and secondary source materials to present a diversity of perspectives on a variety of topics
Special Collections: finding aids provide detailed information about the content, recommended search strategies, and related resources; most materials are available online
SEARCHING
AAPB recommends using the general search box at the top right of any page (as opposed to the Advanced Search option) when searching a topic for the first time, though you might want to include your "search terms" within quotes to search for an exact phrase. After you receive the results, you may want to use the filters in the left column to narrow the list of results (see options/descriptions below). Be aware, however, that the archive is still in the process of being catalogued so not every item available online have been tagged with all the filter facets.
Filters
Media type: moving image or sound
Genre: for example, interviews, news shows, talk shows
Topic: for example, education, fine arts, global affairs
Asset type: episodes, program, raw footage, segment, compilation
Contributing organization
Producing organization
Date: you may select a specific year or range of years