Timely Connections: Teaching About Presidential Impeachment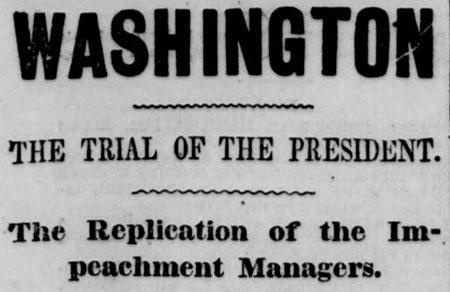 In the article, Teaching Impeachment in Politically Risky Times, Education Week discusses the issues teachers face in the current context and the importance of seizing this teachable moment.
"For the nation's government and civics teachers, it all comes down to this: The wheels of a rarely used, constitutionally prescribed process—impeachment—have been set in motion. And now those teachers are on the front lines of helping interpret it for the nation's students.

Whether teachers are prepared or confident in their abilities to do so remains an open question—and their success in that endeavor could shape how the next generation of civic leaders remembers a potentially formative moment in their civic identity."
The Education Week article goes on to provide three approaches teachers might consider—background knowledge and civic underpinnings, historical/comparative lens, current lens—and suggests that the best teaching would unite them all. In Teaching Presidential Impeachment (Social Education, v63 n2 p106-09 Mar 1999) Jean A. Luckowski and James J. Lopach suggested taking an issues-centered approach which they argue "would prevent the study of impeachment from lapsing into excessive partisanship, as much as students might want that to occur".
One suggestion is to have students compare and contrast the articles of impeachment against the three U.S. presidents impeached by the House of Representatives.
Top teaching bloggers Larry Ferlazzo and Glenn Wiebe also compiled lists or resources with Wiebe adding in some tips. In addition, below are several articles that include teaching tips.
If you decide to include current news coverage, consider using the following resources to guide you.
Regardless of the approach you take, primary sources are key.
General Impeachment Resources
Johnson Impeachment
Clinton Impeachment
Nixon Impeachment Proceedings
Trump Impeachments 
First Impeachment, 116th Congress
Second Impeachment, 117th Congress
Related resources