Last Updated on January 25, 2019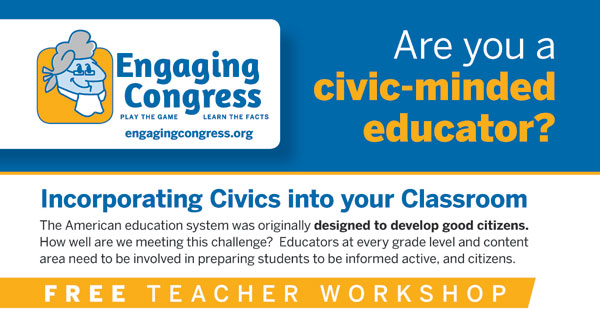 WHY
These free in-person workshops will help civic-minded educators develop engaged citizens by:
improving inquiry-based teaching using Library of Congress Teaching with Primary Sources (TPS) methodology;
reviewing the elementary through high school inquiry-based Citizen U interdisciplinary civics lessons
interacting with the free civics app Engaging Congress;
previewing the Library of Congress TPS Civics micro-credential pilot.
WHO
6th–12th grade educators in all content areas
WHAT
Attendees will receive:
Teaching with Primary Sources training
Continuing Professional Development Units (CPDUs)
$125 stipend
Lunch
Parking validation
WHEN/WHERE
TEXAS
Feb. 23, 2019 – 9 am to 3 pm
St. Mary's University
1 Camino Santa Maria
San Antonio, Texas 78228
Sign up at corgcivicstx.eventbrite.com.
Download the Texas workshop flyer.
ILLINOIS
January 17, 2019 – 9 am to 3 pm
DePaul University's College of Education
2247 N. Halsted, Lower Level 103
Chicago, IL 60614
Sign up at corgcivics.eventbrite.com.
Download the Illinois workshop flyer.