Timely Connections: James Madison & Slavery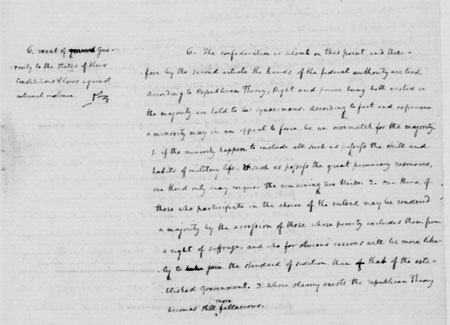 In an opinion piece for the New York Times, Noah Feldman, a Harvard law professor and the author of the book The Three Lives of James Madison: Genius, Partisan, President, discusses the dichotomies between Madison's moral views of slavery and his actions. Delving into the past, he contends, can provide us with lessons in racism for today.
The tension between Madison's aspirational beliefs and his highly constrained actions continues to be America's own tension. Like Madison, contemporary United States society rejects racial inequality in principle. But also like Madison, a majority of Americans — as reflected in our democratic institutions — are ultimately unwilling or unable to make the costly changes that would be necessary to achieve equality in practice. . . .

Our founders can serve as important role models for us — provided we try to learn from their mistakes and flaws as well as their successes and virtues.
What can you learn by digging into primary sources from the past? How can this learning give you new perspectives about the hard history of slavery in the United States and what it means today?
Primary sources
Contemporary texts
Related resources