Last Updated on May 20, 2022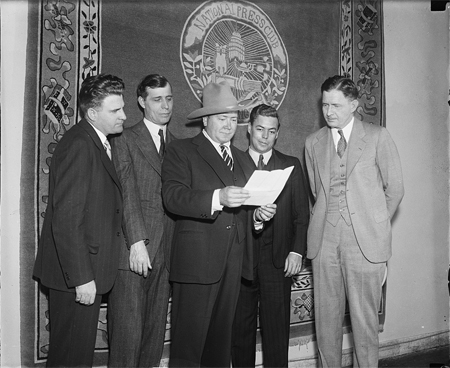 The National Press Club, with more than a century of history behind it, is known for its luncheon gatherings that have featured U.S. presidents, visiting world leaders, and other prominent persons to address the media members and answer questions about current affairs. Now, with the collection Food for Thought: Presidents, Prime Ministers, and Other National Press Club Luncheon Speakers, the Library of Congress provides online access to digital recordings of the National Press Club lunchtime events from 1954-1989.
The collection includes brief background information of each highlighted speaker as well as a link to a longer biographical essay on that person with additional historical context related to the person's National Press Club lunchtime speech.
Although each recording is unique, the lunchtime recordings are typically around 1 hour, with about 5 minutes devoted to introductions, 15-20 minutes to the speech, and 30-35 minutes for Q&A. Each recording is accompanied by a photo of the speaker and also features a lists of topics discussed during the speech and Q&A session and the start and end times of the recordings related to those topics.
Speakers by date (alphabetical order)
For ideas on how to use the collections with students, take a look at the Teaching with the Library of Congress blog post below by former Library teacher in residence, Tom Bober.