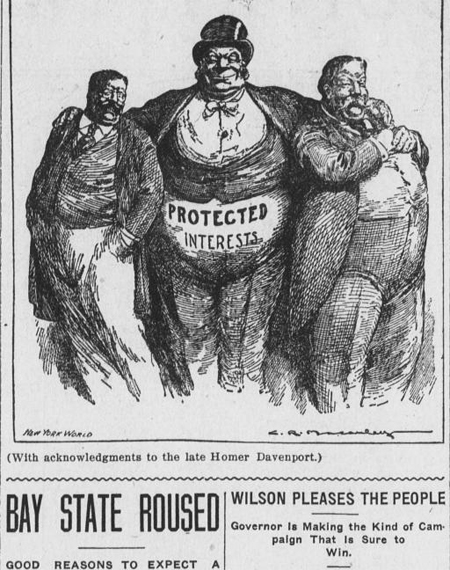 In a past Teaching with the Library of Congress blog post, Deborah Thomas, program manager for the National Digital Newspaper Program at the Library of Congress, discusses how to help students identify bias and attitude in newspaper articles related to the 1912 presidential election. National Council for Social Studies (NCSS) members can access Thomas's original article, which identifies four newspaper items she selected, from the November/December, 2015 issue of Social Education, the journal of the NCSS. If you are not an NCSS member, read Thomas' blog post, then use the links below to select your own items (e.g., articles, editorials, political cartoons, advertisements).
When reviewing newspaper coverage, be sure to click the link to the newspaper name to gain background information and historical context.

For help with analyzing historic newspaper items, review the analysis guides linked to below.
After analyzing the 1912 newspaper items, you may choose to have students analyze bias and attitude found in the newspaper coverage (print or digital) of a contemporary presidential election and then compare the historical and contemporary coverage. Be sure to have students investigate each newspaper they use (see tips and links below).
Students may communicate their newfound understandings from the primary source analyses through a short written essay, a digital timeline, or a print or digital poster.
Newspaper bias research tips & links
Online, look for an about or mission page.
Try a search with a newspaper name + mission statement or editorial policy.
Read the bios of the newspaper publisher(s) and editors.
American Society of News Editors: Ethics newspaper ethics policies/codes
How do you tell when the news is biased? It depends on how you see yourself June 27, 2012 Nieman Lab, Nieman Foundation for Journalism at Harvard
QUOTUS: The Structure of Political Media Coverage as Revealed by Quoting Patterns Vlad Niculae, Caroline Suen, Justine Zhang, Cristian Danescu-Niculescu-Mizil, Jure Leskovec, Proceedings of WWW, 2015
How To Detect Bias In News Media FAIR, Fairness & Accuracy In Reporting
Related resources
Today in History posts: background and primary sources