Finding Reources: Exploring the Digital Collections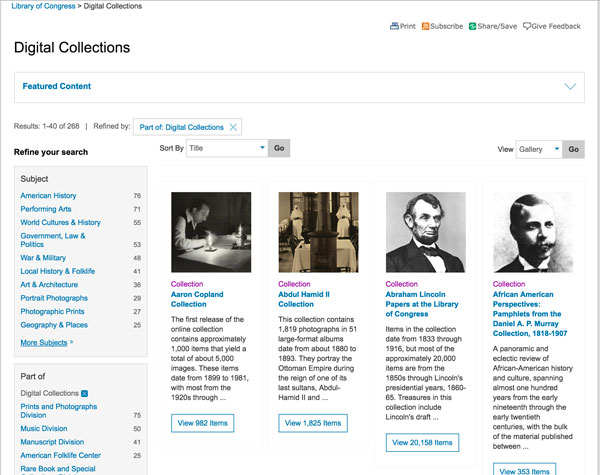 Summer is the perfect time to take some time to explore the Library of Congress digital collections. You can simply use the URL: https://www.loc.gov/collections/. Alternatively, you can navigate from the LOC.gov homepage by clicking the menu icon

to the right of the search bar at the top of the page, clicking the Discover link, then clicking the link in the Digital Collections box.
There are more than 400 digital collections so there's plenty to explore. The default view is Gallery so you can easily get an overview of each collection and how many digital resources are available.
Click on the

thumbnail image

or the

title

to read more about the collection.
Click on the

View items button

to go directly to a list of items.
The collections are listed in alphabetical order but you can use the left column to refine your search or sort the results.
subject

collection repository (

part of

)

source type (

original format

)
Searching within individual collections
You can view items in a

list

(default view) or choose

gallery

,

grid

, or

slideshow

view by simply accessing the drop-down menu at the top, right of the results; select your view; and click the Go button.
You can also refine or sort the collection items using the links in the left column.

source type (

original format

and

online format

)

date

location

collection repository (

part of

)

contributor

subject

language

access condition (

available online

or

available at the Library of Congress Campus

)
Please feel free to share the treasures you uncover!