Last Updated on April 6, 2016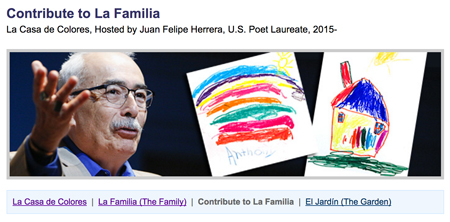 Looking for a way to integrate more poetry into your curriculum during national poetry month in April? Take a look at the project of U.S. Poet LaureateJuan Felipe Herrera. La Casa de Colores, specifically La Familia, is a crowdsourced epic poem project that began in September 15, 2015 and will span the length of Herrera's Laureateship. The current segment is World Unity Tortillas.
Past segments include:
There are several ways to integrate this amazing poetry project into your curriculum.
Students can read a segment (or more than one!) and consider how the entries relate to the segment theme and one another.
Students can read a segment and relate the entries in that theme to another area of study.
Students can search the Library of Congress to find primary source images that could illustrate a segment.
Students can read a segment, put the segment or parts of it to music, and perform it.
Students can read a segment and compare/contrast how it relates to them personally.
Students could read a segment and then create their own segment; they might try adding different forms of poetry within the segment (cinquain, haiku, sonnet, etc.).
Students can contribute to the current segment individually if they are at least 13.
Students can create a class entry that is submitted by the teacher. However, as a teacher, you could submit a class entry.
Schools could create their own epic poem with entries crowdsourced from each classroom. The poem could then be displayed at the school, published on the school website, and read during announcements or at a special forum.