Last Updated on July 26, 2021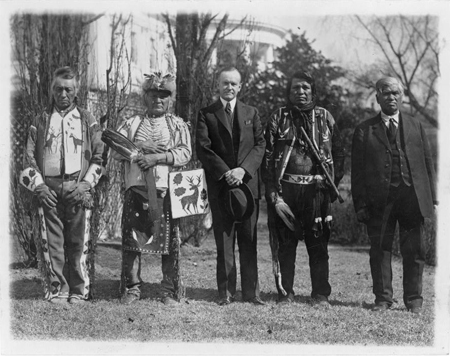 Today in History–June 2–the Library of Congress features the Indian Citizenship Act, enacted on this date in 1924. The act finally granted official U.S. citizenship to to all Native Americans born in the U.S. But because voting rights were governed by state law, some Native American citizens were barred from voting in political elections until 1957. Find out more by visiting the Today in History section, then click the links below to access more stories and primary sources related to Indian, or Native American, citizenship and voting.
Congress Granted Citizenship to All Native Americans Born in the U.S. from America's Library
United States Citizenship for the Native American
As to Court Claimants to Choctaw and Chickasaw Citizenship c 1900
U.S. allotting surveyor and his interpreter making an American citizen of Chief American Horse, Oglala Sioux c 1907
Rodman Wanamaker expedition of citizenship to the North American Indian 1913
Rodman Wanamaker photo
The Boys' and Girls' Republic; Text-Book of the Art of Citizenship 1913
Choctaw Citizenship Litigation 1916
On voting in Maine: The Life of Henry Mitchell, Indian Canoe Maker
"Indian Conference Adopts Resolutions" The Tomahawk. (White Earth, Becker County, Minn.), 30 June 1921.
More historic newspaper articles related to Indian citizenship
Tohono O'odham Citizenship Act legislation from 2001, 2003, 2013