Using Sources: Citing Digitized Sources from the Library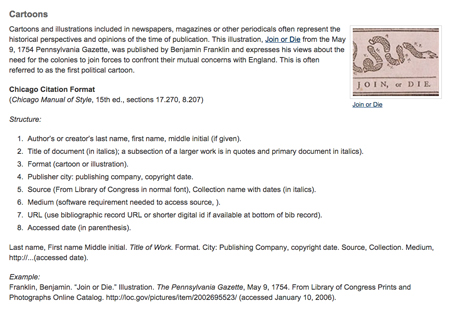 LOC.gov provides researchers of all ages access to millions of digitized primary sources. When using these sources in research or learning projects, it is important to provide citations. Citing primary sources requires the researcher to think carefully about the source—who created/published/distributed it, when was it created, and from where was it accessed. Citing sources ensures that full credit is given to the creators and publishers of sources and that others will be able to locate and review the same sources.
Many primary sources found through a search of LOC.gov provide automatic citation suggestions but if you come across sources that do not, use the links below to help you create the proper citations. Use the Primary Source Tracker to help you keep track of your research and citations.
There are different styles for citing sources so make sure you are following the appropriate guidelines for your project. The Library provides examples for citing a number of different sources using two formal style guidelines.
More citation resources targeted to middle and high school students
Related resources