Finding Resources: Ask Us, Ask a Librarian!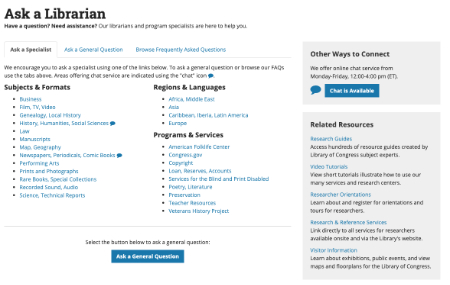 If you've browsed and searched the Citizen U Primary Source Nexus and still can't find what you were looking for, feel free to contact us with questions about Library resources or strategies for teaching with primary sources. We also welcome you to leave a comment on any post.
You can get help directly from the Library of Congress too through the Ask a Librarian section. On weekdays, Monday-Friday from 12:00-4:00 pm EST, you can chat online with a Librarian. Alternatively, you can try a variety of other options.
Browse frequently asked questions
Ask a specialist: Subjects & Formats
Ask a specialist: Regions & Languages
Ask a specialist: Programs & Services
We're all here to help you so please just ask!