Today in History: John Peter Altgeld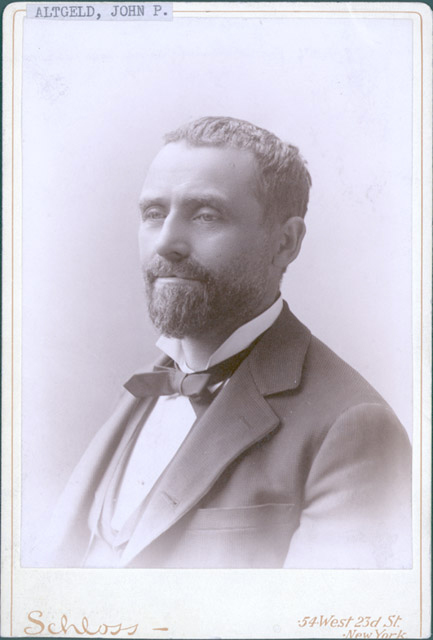 Today in History–December 30–the Library of Congress features politician John Peter Altgeld, born on this day in 1847. A lawyer, Altgeld served as a city attorney and a county prosecutor before serving on the bench of Cook County's Superior Court from 1886 to 1891. In 1892 he was elected governor of Illinois. A progressive, Altgeld passed penal and legal system reforms, as well as early child and women's labor legislation. He is most famous, though, for his June, 1893 pardon of three men involved in the May 1886 Haymarket Riot, a labor protest in support of the eight-hour day. Find out more by visiting the Today in History section, then click the links below to learn more from the primary sources below.
Reasons for pardoning Fielden, Neebe and Schwab by John P. Altgeld, governor of Illinois
In memory of John P. Altgeld; address at the funeral
Dedicatory exercises at the unveiling of bronze tablets in memory of John P. Altgeld Garrick theatre, Chicago Sunday, September 4, 1910
John Peter Altgeld political cartoons
Historical newspaper coverage for Governor Altgeld
Historical newspaper coverage for Altgeld pardon
Altgeld statue image set Lincoln Park, Chicago, IL
Primary source teaching activity
Use the Reasons for pardoning document along with the The Friend of mad dogs political cartoon to answer the questions below.
What were Governor Altgeld's five main reasons for issuing the pardon shortly after assuming office?
Why did Altgeld consider the jury to have been "packed"? What evidence did he give in the pardon message to support that belief?
What were the governor's views of police activity at Haymarket?
Why did Altgeld hold Captain John Bonfield responsible for the death of police officers at Haymarket?
What criticisms did the governor express regarding Judge Gary and his rulings during the trial?
What are the symbols used in the cartoon of Governor Altgeld? How do they portray the governor and his action?
What does the cartoon reveal about the depth of feeling regarding the Haymarket affair seven years later?
Primary Source Learning: Chicago Anarchists & the Haymarket Affair