Today in History: George Dewey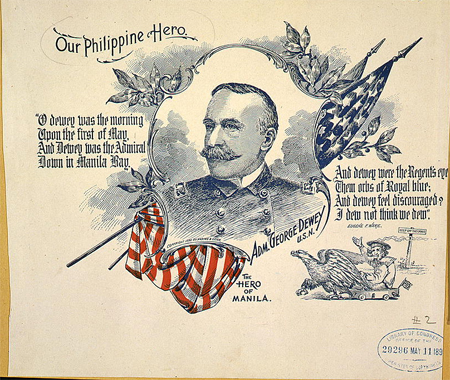 Today in History–December 26–the Library of Congress features Commodore George Dewey, born on this day in 1837. Dewey was the Pacific naval commander when the U.S. declared war on Spain on April 25, 1898. Less than a week later he became a national hero following the decisive and swift 6-hour destruction of the Spanish fleet in the Battle of Manila Bay. Learn more about George Dewey by visiting the Today in History section, then click the links below to access primary sources related to this American naval hero and the Battle of Manila.
"Admiral Dewey landing at Gibraltar" (film, early September, 1899)
"Admiral Dewey leading land parade" (film, September 30, 1899)
"The dandy Fifth" (film, September 30, 1899)
A concise life of Admiral George Dewey, U. S. N. (book, 1899)
George Dewey, admiral (book, 1899)
The life and letters of Admiral Dewey from Montpelier to Manila : containing reproductions in fac-simile of hitherto unpublished letters of George Dewey during the Admiral's naval career and extracts from his log-book (book, 1899)
The War with Spain, operations of the United States Navy on the Asiatic Station; reports of Rear-Admiral George Dewey on the Battle of Manila Bay and on the investment and fall of Manila (government report covering May 1 to August 13, 1898, published 1900)
Autobiography of George Dewey : admiral of the navy (book, 1916)
George Dewey historical newspaper coverage
Battle of Manila 1898 historical newspaper coverage
"The Battle of Manila. The Destruction of the Spanish Fleet Described by Eye-Witnesses. I. Narrative" The Century: A Popular Quarterly Volume 56, Issue 4, Aug 1898
"The Capture of Manila" by Major-General Francis V. Greene  The Century: A Popular Quarterly Volume 57, Issue 6, Apr 1899
Spanish-American War primary source set
Some questions for consideration
Why would Dewey have stopped at Gibraltar on his way back to the United States from the Pacific?
What significance might the publication dates of most of the texts listed above have? (Don't forget to read the Today in History section.)
How does George Dewey's account of the Battle of Manila differ from other eyewitness accounts as reported in The Century?