Analyzing Primary Sources: Learning from Texts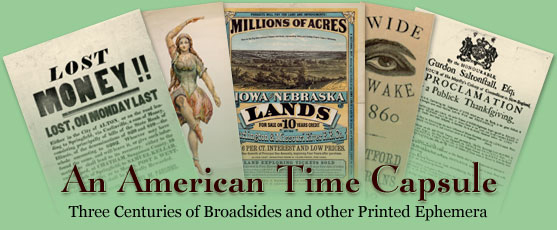 The Common Core State Standards (CCSS) strike a balance between the reading of literature and informational texts and promote the use of a wide range of text types: "Through reading a diverse array of classic and contemporary literature as well as challenging informational texts in a range of subjects, students are expected to build knowledge, gain insights, explore possibilities, and broaden their perspective." [English Language Arts Standards: Key Design Considerations] Through the analysis of primary source texts, students will gain practice in the Common Core English Language Arts Standards (CCSS).
LOC.gov is a virtual treasure trove of primary source texts that can engage students while fostering literacy.  In the online collections you'll find articles, memoranda, legislation, letters, diaries, advertisements, printed ephemera, sheet music, and more. If you're looking for primary source texts, try the following sections: Digital Collections Books &  Digital Collections Manuscripts/Mixed Materials, Chronicling America Historical Newspaper Collection, Collaborative Digital Libraries, Congress.gov, Exhibitions. For more reading materials, try the following: America's Library (short historical stories for elementary students), Country Studies (online versions of books published by the Federal Research Division of the Library of Congress/Department of the Army), Digitized Materials from the Rare Book & Special Collections Division, Everyday Mysteries (short science Q&A stories for elementary students), Poetry resources, Reading Rooms (Hispanic, European, Asian, African & Middle Eastern).
To help students analyze primary source texts, you can have them use the Library's primary source analysis tool and the list of guiding questions provided below, which were adapted from this list and this list.
OBSERVE: Identify and note details
What type of text is this (letter, newspaper article, report, memorandum, legal document, advertisement, etc.)?
Does the text have any special features (handwritten, typed, letterhead, form, notations, signature, stamp, etc.)? Does anything look strange or unfamiliar?
Are there any headers, headlines, or other formatting that call out specific parts of the text?
Are there any images or illustrations? What do they show?
Is place relevant to this text? How?
Are one or more dates listed in the text (written/published)? Is the creation date listed in the bibliographic record? If the creation date is listed, was this text created at or around the same time period the text relates to?
Did a person or group other than the author publish this text? If so, who?
What does the text describe or explain?
REFLECT: Generate and test hypotheses
What tools might have been used to create this text?
Why do you think this text was made? What might have been the author's or publisher's purpose? What evidence supports your theory?
Why do you think the author chose to include these specific details of description or explanation? What information might have been left out of the text?
If images or illustrations are included, what purpose might they serve?
Who do you think was the audience for this text?
What do you think the author might have wanted the audience to think or feel? Does the arrangement or presentation of words, illustrations, or both affect how the audience might think or feel? How?
What do you feel when reading this text?
Does this text show clear bias? If so, towards what or whom? What evidence supports your conclusion?
Are there details that reference other people or events of the time period? What was happening during this time period? If someone wrote this text today, what would be different/the same?
What did you learn from examining this text? Does any new information you learned contradict or support your prior knowledge about the topic of this text?
QUESTION: What didn't you learn that you would like to know about? What questions does this text raise? What do you wonder about . . .
Who?
What?
When?
Where?
Why?
How?
What sources might you consult to learn more?
Please feel free to download and distribute the Text Analysis Guiding Questions document and the primary source analysis tool (but please keep the formats, including logos, intact).
Analyzing Primary Sources: Close Reading Markup Strategies
Strategies to Help Students 'Go Deep' When Reading Digitally KQED
Guiding questions for other primary source types