Today in History: Boston Massacre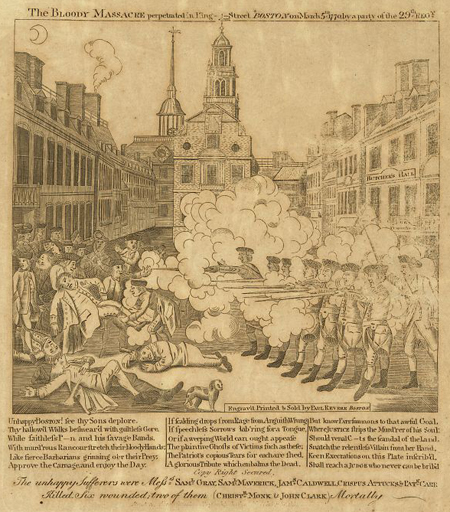 Today in History–March 5–the Library of Congress features the Boston Massacre, which occurred on this day in 1770 when British soldiers shot into a crowd of colonists. This skirmish became a rallying point for American patriots, led by Samuel Adams. Learn more about the incident and one of the fatal victims, Crispus Attucks, by visiting the Today in History section, then clicking the links below.
On the death of five young men who was murthered, March 5th, 1770.
An account of a late military massacre at Boston, or the consequences of quartering troops in a populous town, March 12, 1770
Orations, delivered at the request of the inhabitants of the town of Boston, to commemorate the evening of the fifth of March, 1770
The Boston Gazette, and Country Journal. Monday, March 12, 1770
Thomas Jefferson to William Small, May 7, 1775, Boston Massacre 1775 letter
History of the Boston Massacre, March 5, 1770; consisting of the narrative of the town, the trial of the soldiers and a historical introduction contains unpublished documents of John Adams
John Adams and the Boston Massacre Trial of 1770 Law Library of Congress
The massacre perpetrated in King Street Boston on March 5th 1770 book illustration
The Hidden Life of Crispus Attucks Journal of the American Revolution March 5, 2014
Our American Voice action civics lessons
Related resources