Last Updated on October 13, 2022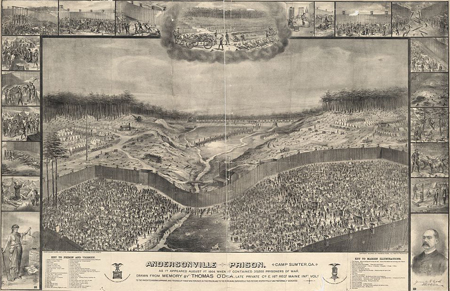 Below you will find teaching ideas related to Civil War prisons and prisoners.
Civil War: First-Person Narratives of the American South, 1860-1920
This collection chronicles the experiences of southerners from all stations in life — white and black, rich and poor, including many accounts that relate the common soldier's perspective on the war. Some of these accounts were written by, or about, operatives behind enemy lines and will help readers appreciate the intensity of the sectionalism that divided the country.
A keyword search on prisons yields several documents including Miles O. Sherrill's A Soldier's Story: Prison Life and Other Incidents in the War of 1861-'65. Sherrill's brief story relates his wounding at Spottsylvania and the subsequent amputation of his leg by Federal surgeons. After the tortures of the field hospital, though maimed for life, Sherrill relates that he was eventually imprisoned in Elmyra, New York where smallpox, starvation, and dysentery were the norm. Upon arriving at the prison:

The commanding officer, Major Beal, greeted us with the most bitter oaths that I ever heard. He swore that he was going to send us out and have us shot; said he had no room for us, and that we (meaning the Confederate soldiers) had no mercy on their colored soldiers or prisoners. He was half drunk, and I was not sure but that we might be dealt with then and there. Then we were searched and robbed of knives, cash, etc., and sent into various wards. While we were standing in the snow, hearing the abuse of Major Beal, some poor ragged Confederate prisoners were marched by with what was designated as barrel shirts, with the word "thief" written in large letters pasted on the back of each barrel, and a squad of little drummer boys following beating the drums. The mode of wearing the barrel shirts was to take an ordinary flour barrel, cut a hole through the bottom large enough for the head to go through, with arm-holes on the right and left, through which the arms were to be placed. This was put on the poor fellow, resting on his shoulders, his head and arms coming through as indicated above; thus they were made to march around for so many hours and so many days. Now, what do you suppose they had stolen? Why, something to eat. Yes, they had stolen cabbage leaves and other things from slop barrels, which was a violation of the rules of the prison. from pages 9-10, A Soldier's Story: Prison Life and Other Incidents in the War of 1861-'65

Why do you think that accounts from prisoners and spies are the most vindictive?
What is the effect of Sherrill's detailed description of the use of barrel shirts for punishment?
What other types of writing might try to persuade a reader to sympathize with the author's plight? Who might write such works?
What might prompt an ex-prisoner to write about his/her experiences?
The autobiographical tale of Confederate spy, Belle Boyd in Camp and Prison, is also referenced.
Students could compare and contrast her prison accounts with those of Sherril's above; these letters relating Civil War prison experiences from A Civil War Soldier in the Wild Cat Regiment: Selections from the Tilton C. Reynolds Papers); Nineteen months a prisoner of war in the hands of the Rebels: experience at Belle Isle, Richmond, Danville, and Andersonville (1865); and "At Andersonville" The Atlantic monthly Volume 15, Issue 89, March 1865.
To help visualize the accounts, have students sketch scenes from the accounts based on the descriptions given in the text. Invite further comparison by comparing student sketches to the photographs and illustrations found in this Andersonville prison image set and this set of images of Civil War prisoners & prison camps.
The Washington during the Civil War: The Diary of Horatio Nelson Taft, 1861-1865 collection documents life in Civil War era Washington, D.C. as seen through the eyes of Horatio Taft.