Finding Resources: Chronicling America Historic Newspaper Topic Guides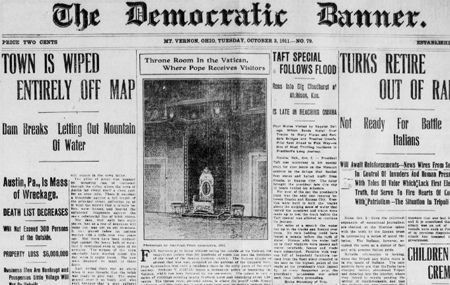 The Teaching with Library of Congress blog provides some great tips for finding articles in the Chronicling America Historic Newspaper Collections and provides some teaching ideas as well. Be sure to check out, too, the following learning activity: Comparing Reports: Battle of Little Bighorn.
Below is a list of topic guides by subject, each of which includes a list of important dates, search strategies, and sample articles. You can also scroll through these topics by date range or by title.
African American History
American Enterprise, Industrialization and Development
Arts, Education, Culture, Crazes and Trends
Crimes and Trials of the Century
Natural Wonders, Disasters and the Environment
Politics, Government and World Leaders
Public Spirit, Exhibitions, and Celebrations
Science, Technology, and Innovation
Sports and American Pastimes
Struggle for Human Rights and Freedoms
The Civil War
World War I
Other war related pages
Women's History
State-focused Chronicling America Highlights
Do you know of more state-focused links to newspapers in the Chronicling America collections? If so, please let us know so we can add them here.