Learning from the Source: Media & Migrant Laborer Perspectives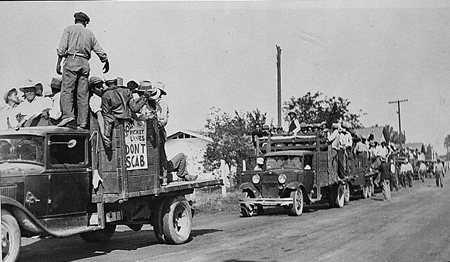 Voices from the Dust Bowl: The Charles L. Todd and Robert Sonkin Migrant Worker Collection is an online presentation of a multi-format ethnographic field collection documenting the everyday life of residents of Farm Security Administration (FSA) migrant work camps in central California in 1940 and 1941. Todd and Sonkin, both of the City College of New York, traveled to Arvin, Bakersfield, El Rio, Firebaugh, Porterville, Shafter, Thornton, Visalia, Westley, and Yuba City, California and recorded dance tunes, cowboy songs, traditional ballads, square dance and play party calls, camp council meetings, camp court proceedings, conversations, storytelling sessions, and personal experience narratives of the Dust Bowl refugees who inhabited the camps.
Compare the perspectives provided in labor-related articles collected by Charles Todd in a scrapbook (Note: click on the small image of an article in order to display a larger, more readable version) with that of migrant laborers as related in interviews, songs, and a camp newsletter.
Do the articles mirror or contradict the migrant labor experience or merely add another dimension?
What new questions do you have?
Where might you look for more information and context?
Complete Charles Todd scrapbook