Last Updated on June 9, 2011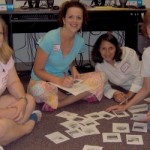 In the Teaching and Learning category, we will highlight strategies for incorporating primary sources into teaching and learning activities, lessons, and projects. Some of these will come from the Barat team, some from the Library, but most will come from the fabulous teachers out in the field who are innovating every day. If you have a great teaching strategy that you'd like to share, please let us know!
Post a comment or contact PSN.