Last Updated on September 17, 2021
Citizen U
Weaving civics across grades and disciplines
Click the links to access, like and share
American Memory Birthday Project


Students learn about primary sources then analyze both secondary and primary sources to investigate historical events that happened on their birthdays. After, students create news sheets summarizing their learning and celebrating themselves.

Pledge Image Sequencing


By analyzing primary source images and pairing them with the Pledge of Allegiance text, students deepen their understanding of a citizen's commitment to country. After, students create their own pledge to family, heritage, culture, class, or school.
Star Spangled Banner: K-2


Students learn about different types of primary sources and key historical events that led to the creation of the U.S. national anthem, helping them to learn the lyrics to the Star Spangled Banner, to build their knowledge of U.S. history and consider and identify their personal connections to this song and the American flag.

Star Spangled Banner: 3-5


Through analysis of sources, students are introduced to key historical events related to the U.S. national anthem, helping them to learn the lyrics and expanding their understanding of U.S. history. After, students apply their newfound knowledge as they contemplate the significance the song and the American flag have for them personally.
RISE: Racial Equity Webinars & Micro-credential
Our American Voice
Action-based civics education program
Click the image blocks to access, like and share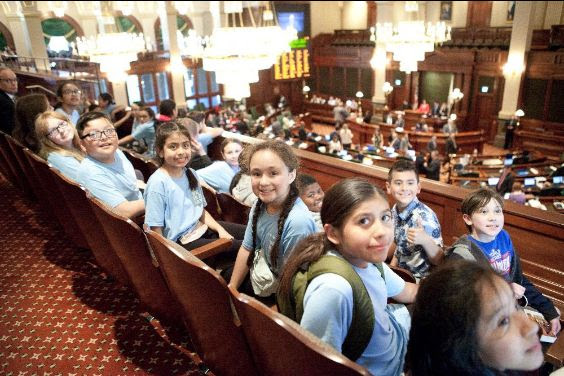 We have a critical question about January 6th. Did any of those people who took part in despicable acts ever receive any civic education? If so, what did they learn? How can they believe their un-American behavior is patriotic and that terrorism is protected under freedom of speech?
We will never know those answers, but we do know that there has been deficient civic education in our nation's school systems since the beginning of this century. Unfortunately, the quality of civic education before then was highly variable and restrictive with an emphasis on laws and history rather than civic learning and engagement.
The Barat Education Foundation created Our American Voice® (OAV) for elementary and middle school students more than a decade ago to address our nation's civic education vacuum and "to prepare the citizens of tomorrow today". OAV is taught in partnership with leaders in schools and community-based organizations.
OAV students learn four core principles that are the foundation of our democratic republic . . .
Read the rest.
On Our Radar
Civics news & resources from @OurAmVoice
Click the links to access and share
TEACHING WITH PRIMARY SOURCES
Primary Source Nexus
Teaching & learning resource blog
Click the links to access, comment and share
TPS Program
Click the links to access and share
News, Opportunities, Resources
Advanced Searches Using Legislative Action Codes on Congress.gov
In Custodia Legis | Access tutorial
City Sketches and the Census
Law Library Story Map | Access
The City of Washington: From the Serial Set
Law Library Story Map | Access
Congress.gov New, Tip and Top in 2020
Review
Current Context: Biden vs Trump: The Environment
This issue from the California History Social Science Project helps students understand the enormous challenge President-elect Joe Biden faces in setting the country on course for zero greenhouse gas emissions, especially after Trump's rejection of climate science. | Read
Distance Learning and Primary Sources
Library of Congress | Access
Human Rights Day Panel Discussion on Contact Tracing and the Right of Privacy
Law Library of Congress | Watch
Primary Source Podcast: Creating Transcripts of Primary Sources
from teacher librarian and former Library of Congress Teacher in Residence Tom Bober | Listen
Tip of Congressional Iceberg Redux
In Custodia Legis points you to resources and information available through Congress.gov | Review
Online Professional Development
WEBINARS/WORKSHOPS
Using Primary Sources in STEM Classes
TPS Virginia with Peter DeCraene, Library of Congress Einstein Fellow
January 13 4:00-4:30 pm EST
Free | Email to register
Prints & Photographs Division Virtual Orientation
Library of Congress
January 13 4:00-4:30 pm EST
Free | Register
The Case for Elementary Social Studies: Social Studies in the Age of Disinformation
InquirED with Sam Wineburg, Stanford History Education Group
January 19 3:00 pm CST
Free | Register
Prints & Photographs Division Virtual Orientation
Library of Congress
January 19 12:00-1:00 pm EST
Free | Register
Using Primary Sources in Teaching Disability History
TPS Virginia with Rich Cairn and Alison Noyes from Emerging America
January 20 4:00-4:30 pm EST
Free | Email to register
RISE for Racial Equity – Inquiry: Dismantling Racism
Barat Education Foundation & DePaul University
January 21 5:00-6:00 pm CST
Free | Information | Registration
Responsive Inquiry in and Through Vocal Music
Waynesburg University with National Association for Music Education (NAfME)
January 26 7:00-7:45 pm EST
Free | Register
Responsive Inquiry in and Through Instrumental Music
Waynesburg University with University of the Arts
January 27 7:00-7:45 pm EST
Free | Register
Our Rights and Nothing Less: Struggles to Secure the Vote in the United States
Emerging America, Massachusetts Historical Society, Primary Source
January 27 9:00 am-3:00 pm EST
Free | Information & register
RISE for Racial Equity – Self-Awareness: Healing History
Barat Education Foundation & DePaul University
February 18 5:00-6:00 pm CST
Free | Information | Registration
Discover Tennessee History – Tracing the Trail of Tears through Tennessee
TPS MTSU
March 9 4:00 pm CST
Free | Register
RISE for Racial Equity – Empathy: Transforming Connections
Barat Education Foundation & DePaul University
March 18 5:00-6:00 pm CST
Free | Information | Registration
North Carolina Workshops
Mars Hill University
Free | Email Bridget Morton
Virtual Student Workshops
Library of Congress
Tuesdays through Thursdays between 10 am and 4 pm EST, except for federal holidays, on a first-come, first-served basis and subject to staff availability
Free | Access request form
COURSES
America and World Fascism – From the Spanish Civil War to Nuremberg and Beyond
Rich Cairn, Emerging America with Peter Carroll, Stanford University and Sebastiaan Faber, Oberlin College
Jan. 22 – Mar. 1
Fee – 22.5 PDPs (MA), 15 hours (other states), or 1 grad credit in History from Westfield State University | Information & registration
Professional Development Providers Institute
TPS Eastern Region
Jan. 28 – Mar. 4, Thursdays, 5:30-6:30 pm EST
Free – up to 25 CEU hours for course completion, with option to earn 10 more afterwards | Information & registration
Teaching the History's Mysteries K-5 Curriculum
Led by program creators, Laurie Risler and Kelley Brown
Feb. 10, 7-8:15 pm EST, Apr. 14, 7-8:15 pm EST, follow-up session in June
Fee – 10 PDPs | Information & registration
Accessing Inquiry for Students with Disabilities Through Primary Sources
Collaborative for Educational Services
Feb. 19 – Apr. 2
Fee – 22.5 PDPs (MA), 15 hours (other states), or 1 grad credit in History from Westfield State University | Information & registration
Accessing Inquiry for Students with Disabilities Through Primary Sources
Collaborative for Educational Services
Feb. 19 – Apr. 2
Fee – 22.5 PDPs (MA), 15 hours (other states), or 1 grad credit in History from Westfield State University | Information & registration
Strategies for Teaching Inquiry with English Learners through Primary Sources – 6-hour asynchronous course
Emerging America, Metropolitan State University of Denver, TPS Western Region
Mar. 3-30
Free | Registration
From the TPS Teachers Network
(must join / login to view / participate)
Library Blog Round-Up
Recent favorites
Click the links to access, comment and share
From the Pros in the Field
Teaching & learning with primary sources
Click the image blocks to access, like and share