Last Updated on January 2, 2021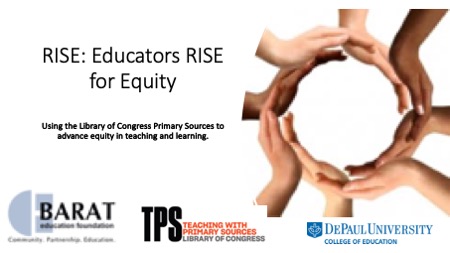 So many teachers are reflecting on how to fight racism, how to help students through the impact of the isolation and fear of the pandemic, and how to help students thrive in these challenging times. Teaching during COVID-19 and in a time of dismantling systemic racism is an experience that requires innovative approaches grounded in empathy, inquiry, trauma informed practices, and innovative thinking. The RISE for Racial Equity Webinars & Micro-credential program offer practical strategies for using inquiry and Library of Congress primary sources to dismantle racism, build empathy, and discover solutions as students gain skills in inquiry and civic mindedness.
Join us for this series of free webinars supported by the Library of Congress Teaching with Primary Sources program with Barat Education Foundation and DePaul University. The first FREE webinar is Thursday, December 17, 2020 from 5:00 – 6:00 pm CST. Webinars are offered monthly through June, 2021 and you may register for as many as you like.
Free webinars and micro-credential for all educators
Earn CPDUs
Earn recognition as a RISE Educator skilled in teaching with equity
Be a part of positive change, supporting students and transforming learning
The webinars provide strategies to use Library of Congress primary sources as resources to work for change in our society and our schools. The webinars are a component of a free micro-credential program. The free micro-credential program provides an educator with 20 CPDUs and certifies them as RISE Equity Educator. Enrollment in the fully online micro-credential is free to teachers and optional. Educators may attend webinars and/or enroll in the micro-credential.
Monthly webinars  on Thursdays from 5:00 – 6:00 pm CST
Click the links to view recordings of past webinars and access associated materials.
| | |
| --- | --- |
|  TOPIC |  DATE |
|  Reflection: Engaging All Students |  December 17, 2020   |
|  Inquiry: Dismantling Racism |  January 21, 2021 |
|  Self-Awareness: Healing History |  February 18, 2021 |
|  Empathy: Transforming Connections |  March 18, 2021 |
|  Action: Inquiry and Civic Action for Equity   |  April 22, 2021 |
|  Action: Shifting to Civic Mindedness |  May 20, 2021 |
|  Action: From Equity Dream to Reality |  June 17, 2021 |
To save your spot at the webinars, complete the registration.