Last Updated on November 15, 2021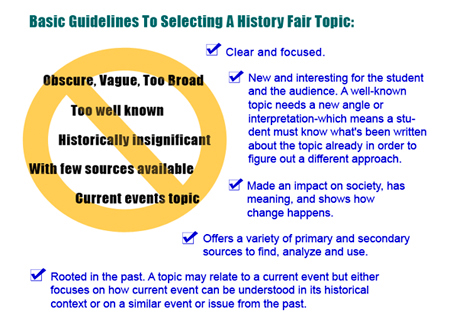 For this year's topic selection resources and curated sets of primary sources, click here.
The graphic above from the Chicago Metro History Fair (CMHF) is a great encapsulation of how to choose a topic for a history fair project. In addition, ask yourself the questions listed below.
Below we dig a bit deeper and uncover some strategies for selecting a topic for your history fair project.
Understanding NHD Projects
There is a new rule book for NHD 2021 so be sure to read it carefully!
Exploring the theme
Each year NHD chooses a particular theme that must be the focus of student projects. For 2021, the theme is Communication in History: The Key to Understanding. Before doing anything else, make sure you understand the theme.
Investigating & narrowing topic choices
Getting started on your project
Researching your topic
Selecting & using sources
Citing sources
Putting it all together