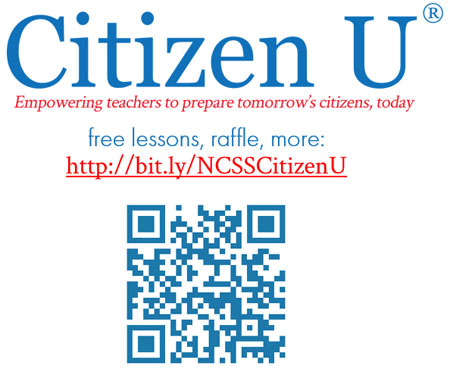 Look for Barat Education Foundation at NCSS 2018. We are excited to engage with you.
We will be showcasing Citizen U lesson plans, which integrate civics into math, science, English, and social studies, at our NCSS poster session on Friday, Nov. 30 from 3-4 pm: Innovative and Collaborative Teacher Transformation. Poster session #2229 (Crystal Ballroom Foyer, Lobby Level, West Tower) will delineate the ways in which Barat effectively collaborated with DePaul University and the Constitutional Rights Foundation California to provide teachers of English, Science, Math, and Social Studies with lesson plans (Citizen U) that use primary sources from the Library of Congress to integrate civics and teach through inquiry. The poster will describe the powerful transformation that occurred when teachers, in any discipline, are able to use the Library of Congress and inquiry to drive civic engagement and civic mindedness. Download the free lessons and teacher guides to join the movement and make a difference!
You will also find us Friday after lunch at the Inquiry to Engagement: Connecting Across Differences strand at the Swissotel. Be sure to stop by our table before and after the closing plenary session at 2:45 pm—Better Arguments Project. We have lots of information and resources to share and we'll have a raffle too! After, we will be stopping by the #SSChat Unconference also at the Swissotel in the ballroom from 4-7 pm.
Additionally, you can connect with us at the TPS Poster Session starting at 10:30 am. Below is the session schedule for additional TPS Consortium partners.
Friday, November 30
9:00 – 11:30 TPS Poster Session, Grand Ballroom B
9:00 – 10:00 University of Central Florida, Primary Sources Instructional Design and Technology: Impacting Student Learning
Session #1570 McCormick, 3rd Floor, West Tower, Hyatt Regency Chicago
9:00 – 10:00 Mississippi State University, Cold Case: 03051770
Session #2108 Randolph 1AB, Concourse Level, East Tower
9:30 – 1:30 Maryland Humanities, Poster Session, Crystal Ballroom Foyer, Lobby Level, West Tower, table number 14
10:15-11:15 University of Central Florida, Best Practice in Meaningful Elementary Social Studies
Session #1573 McCormick, 3rd Floor, West Tower, Hyatt Regency Chicago
1:30 – 2:30 Kidcitizen. KidCitizen App: Primary Source Inquiry for Young Learners
NCSS Technology Lounge, Next to NCSS Registration Desk
2:45 – 3:15 State Historical Society of Iowa, The Power of Text Sets: Helping Students Question History Power, Session #1236 Gold Coast, Concourse Level, West Tower
3:00 – 4:00 Barat Education Foundation and DePaul University, Innovative and Collaborative Teacher Transformation
Session #2229 Crystal Ballroom Foyer, Lobby Level, West Tower
4:00 – 5:00 Southern Illinois University – Edwardsville, Active Vocabulary: Making Vocabulary Important in Elementary Social Studies Classrooms
Session #1504: Columbus EF, Ballroom Level, East Tower
4:35 – 5:05 Mississippi State University, Examining Historical Empathy through the Chinese Exclusion Act, Power Session #2193 Columbian, Concourse Level, West Tower
Saturday, December 1
9:00 – 10:00 Collaborative for Educational Services, Engage English Language Learners with Disabilities through Primary Sources
Columbus EF, Ballroom Level, East Tower
9:00 – 10:00 KidCitizen, Using KidCitizen to Design an Inquiry-Based Learning Experience
NCSS Tech Lounge Location TBD
9:30 – 10:30 Eastern Region, Teaching with Primary Sources Regional Program,
Session #1621 Crystal Ballroom Foyer, Lobby Level West Tower
1:30 – 2:30 KidCitizen, How Teachers Are Using Interactives to Explore Congress, Civic Participation,
Session #2174 Toronto, Ballroom Level, West Tower
1:30 – 2:30 Maryland Humanities, Combating Digital Misinformation: Teaching Students to Read like Fact Checkers
Session #2342 Burnham, 3rd Floor, West Tower
1:30 – 2:30 Center for Learning and Innovation, How Teachers Are Using Interactives to Explore Congress, Civic Participation
Session #2174 Toronto, Ballroom Level, West Tower
2:45 – 3:45, Minnesota Historical Society, Girls in the Movement: Teaching Young People's Civil Rights Stories
Columbus EF, Ballroom Level, East Tower