Last Updated on May 24, 2019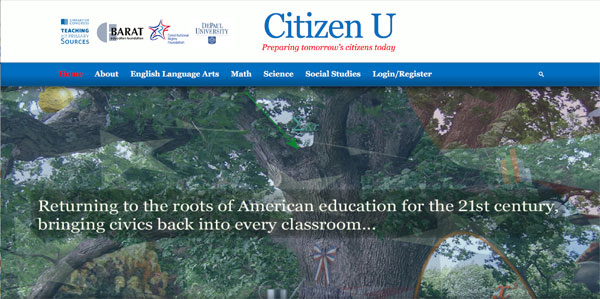 The Citizen U curriculum is a collaboration between the Barat Education Foundation (BEF), Constitutional Rights Foundation (CRF), and DePaul University's Office of Innovative Professional Learning (DePaul OIPL) and was developed thanks to a grant from the Library of Congress Teaching with Primary Sources (TPS) program.
The goal of the Citizen U curriculum is to infuse civic knowledge, skills, and dispositions across the core subjects in elementary, middle, and high school grades. Working with a dedicated group of teacher-reviewers, BEF, CRF, and DePaul OIPL developed 15 inquiry-based lessons related to the overarching theme of equality that use primary sources to incorporate civics learning into English Language Arts, Math, Science, and Social Studies.
The American public education system was originally developed to create good citizens able to take part in shaping and determining the direction of the country. The Citizen U lessons are designed to inculcate a wide variety of skills necessary for civic literacy and success in the 21st century, including collaboration, communication, creativity, critical thinking, information literacy, problem-solving, leadership, and social responsibility. By implementing Citizen U lessons in the classroom, educators can help foster students' understanding of civic rights and responsibilities while deepening engagement and giving added real-world context, meaning, and relevance to core subjects.
So don't delay, come on over to http://CitizenU.net and help prepare tomorrow's citizens today!
English Language Arts lesson plans