Last Updated on October 11, 2020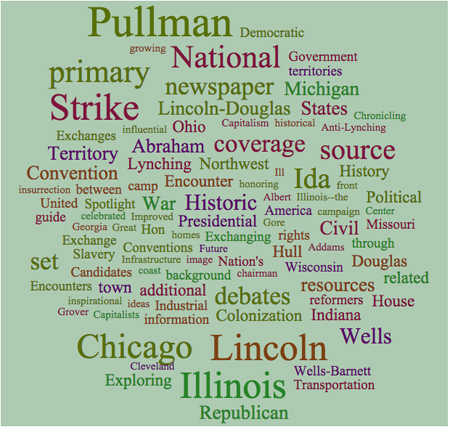 Below you will find Library of Congress resources curated by TPS-Barat that relate to National History Day 2016 topic ideas from the Chicago Metro History Education Center. This set specifically focuses on power, authority, & governance but all topic ideas are related to the 2016 NHD theme: Exploration, Encounter, Exchange in History. More CMHEC topics will be referenced in subsequent posts.
Interest in this area involves the way that government functions, how politicians lead, laws made and impact, and how citizens participate in government.
Encounters at the 1968 Democratic National Convention
Exploring Progressive Encounters with Industrial Capitalism: Hull House Reformers in Europe
Lincoln-Douglas Debates: Encounter and Exchange of the Nation's Future
Pullman Strike: A Landmark Encounter Between Capitalists and Labor
Pullman Town: Exchanging Freedom for a Job
Exchanges in the Wigman: How Presidential Candidates were Selected
Exploring Anti-Slavery: Lincoln and Colonization
1860 Republican National Convention in Chicago
Chicago and the Civil War
Lincoln and the Building of the Nation's Infrastructure: Exploring Government Responsibility
Ida B. Wells and the International Exchanges to End Lynching
Exchanging Slavery for Statehood: Illinois Moves from Northwest Territory
More CMHEC Topic Ideas
More NHD-related resources from TPS-Barat
National History Day project resources