Last Updated on April 9, 2015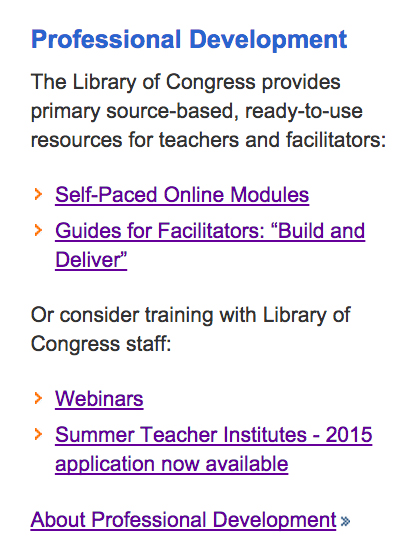 The Library of Congress is hosting a series of free one-hour webinars focusing on using the Library's digitized collections to meet curriculum content and skills standards.
The webinars will generally be held every on Thursdays at 4:00 ET but look below for exact dates and registration information.
More complete descriptions of the spring 2015 webinars and registration information can be found in the professional development area on the Teachers section of the Library website or by hovering over the indicated dates on the TPS-Barat PD calendar.
Spring 2015 Webinar Dates & Topics
Date
Topic
Jan. 13
recording part 1
recording part 2
Teaching with Primary Sources in the Science Classroom
Jan. 22 recording
must register to view
Civil Rights and Analyzing Images
Feb. 19 recording
must register to view
Building Literacy Skills and Teaching about the Civil Rights Movement with Primary Sources
Feb. 24 recording
Hangout with the World Digital Library
Mar. 19 at 4 pm ET recording
must register to view
Identifying Bias and Perspective when Teaching about the Civil Rights Act of 1964
Apr. 16 at 4 pm ET
Selecting Primary Sources to Examine the Civil Rights Act of 1964
Apr. 23 at 4 pm ET
Primary Sources and Chronicling America
May 7 at 4 pm ET
English Learners, the Common Core and Primary Sources