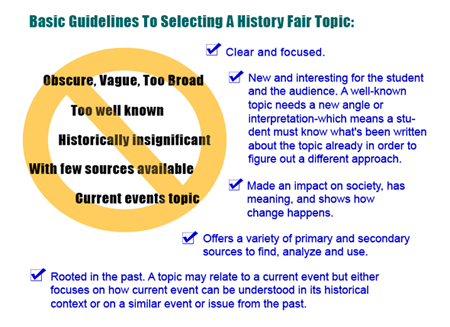 The graphic above from the Chicago Metro History Education Center (CMHEC) is a great encapsulation of how to choose a topic for a history fair project. In addition, ask yourself the questions listed below.
Does the topic relate to this year's National History Day (NHD) theme: Leadership & Legacy in History? (Remember, you need to address both leadership

and

legacy.)
For Illinois students, does the topic relate to local or Illinois state history?
Does the topic really interest you?
Do you have a personal connection to the topic? (It's not necessary but it can be a good thing.)
Will you be able to find enough primary and secondary sources to thoroughly research the topic?
Why is this topic important?
What will people learn from your project?
Below we dig a bit deeper and uncover some strategies from TPS-Barat and CMHEC for selecting a topic for your history fair project.
Understanding the theme
Each year NHD chooses a particular theme that must be the focus of student projects. For 2015, the theme is Leadership and Legacy in History. Before doing anything else, make sure you understand the theme.
A few more suggestions adapted from suggestions from a NHD coordinator from an article found on the CMHEC website are listed below.
Discuss how the theme of Leadership & Legacy relates to people, events, and issues you've learned about earlier this year and in previous years and make a list.
Free write about what the theme means to you personally or to someone you know.
Exploring topics
Remember, the theme is leadership

and

legacy; you need to address both in whatever topic you choose.
Create an outline or mind map of the topic ideas listed in the articles above.
Review the CMHEC suggested topic ideas and associated Library resource lists compiled by TPS-Barat.
Review the NHD suggested topic ideas and associated Library resource lists compiled by TPS-Barat. (Illinois students need to remember, though, that they need to make it local.)
Flip through newspaper and magazine articles about current events that you find interesting or concerning and then consider the historical and local angles to those topics. (Remember, the theme is Leadership & Legacy in

History

; your project may not be about a current event.)
Browse through a history textbook.
Check out local and state historical sites, museums and websites.
Narrowing choices
Consider refining your topic using the following steps: theme, interest, broad topic, narrow topic, thesis. Visit the the NHD Getting Started page for a detailed explanation and examples.
Try filling out one of these topic selection worksheets from CMHEC.
Evaluating topic selection
Review the excellent graphic organizer from CMHEC highlighted below.
Download the graphic organizer (includes a blank copy).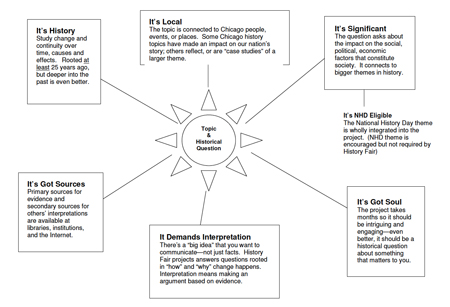 More resources