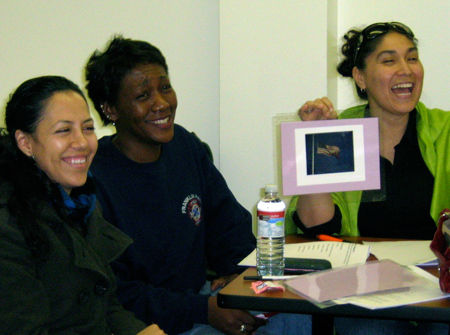 Barat Education Foundation invites Chicago Public School (CPS) middle and high school teachers, grades 6-12, as well as network instructional leaders and teacher librarians (K-8, 6-8, or 9-12), to participate in the Fall 2013 cohort of the TPS-Barat Train-the-Trainer program (TPS-Barat TTT). This cohort will run through December, 2013. The application deadline is September 4, 2013.
Program Overview
The TPS-Barat TTT program focuses on two key areas. The program trains educators how to access and use freely available Library of Congress resources to scaffold both content-area and disciplinary literacy learning with primary sources as they guide students in the ascension of the Common Core State Standards (CCSS) staircase of complexity. The program also trains educators in adult learning theory and methodology so that they can best advocate for the application of primary source learning focused on CCSS instructional shifts and support their colleagues in the ongoing implementation of rigorous and engaging instruction. This is a stipended program that also provides substitute coverage and weekend compensation.
Program Structure
The TPS-Barat TTT program is comprised of six training blocks. The sequence, general content, and approximate length of these blocks are outlined below. Workshop in-class sessions will be held in a central location.
Block 1 (Sep.):                 Orientation to the Library of Congress online (time at home/school as needed)
Block 2 (Oct. 11, 12):       TPS Content Competencies Workshop (2 days in class)
Block 3: (Oct. 13-31):     Activity Presentation Prep (4 hours at home/school)
Block 4: (Nov. 1, 2, 4):   TPS Professional Development & Mentoring Competencies Workshop (3 days in class)
Block 5: (Nov.-Dec.):     Training & Mentoring Development & Implementation (time at home/school as needed)
Block 6: (date TBD):     Cohort Wrap-up Conference (2-3-hour webinar)
Blocks 1-3 prepare cohort participants to deliver TPS training and mentoring. In Block 4, participants develop training and mentoring plans that they implement in Block 5. Block 6 provides the cohort with the opportunity to reflect on the implementation of training and primary source learning activities and to discuss future mentoring plans.
For more details and information on applying, please contact us using a valid Chicago Public School email address. Please note: application deadline is September 16, 2013.
Not a CPS teacher? TPS-Barat also provides no-cost workshops for teachers in northern Cook and Lake counties in Illinois as well as the Rockford area.
Are you located somewhere else? No problem. There are TPS Consortium members throughout the state of Illinois and many other states as well. In addition, the Library offers numerous online and onsite professional development opportunities.