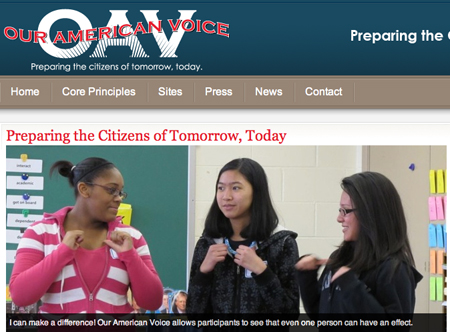 The Barat Education Foundation is pleased to announce that its application for grant support from the Robert R. McCormick Foundation has been approved.
The McCormick Foundation and BEF will be able to provide support for the Our American Voice program in several Chicago Public Schools for the 2011-12 school year. Together with Centers for New Horizons and LULAC (the League of United Latin American Citizens), Our American Voice will be offered at traditionally underserved schools in the Chicago Public Schools, with concentrations on African-American and Latin American students.
"We're thrilled that the McCormick Foundation has selected us to help students in challenged neighborhoods and communities learn and experience firsthand that they indeed have the power to create positive change," said BEF CEO/Chair Sheila A. Smith. "Past experience has shown us how much middle schoolers benefit from the experiential learning, and we have a real opportunity to show these participants what democracy really means in their everyday lives, in a way they would likely otherwise never experience."
Our American Voice connects middle-school students to the democratic process through active community problem solving in an after-school program that is engaging, interactive and grounded in real life.
The program emphasizes critical thinking skills as students learn the fundamentals of American democracy and work to create positive change in their communities. Via the four Core Principles, students engage in team activities, discussions and research, and partner with community agencies and elected officials to find solutions to issues in their own backyards. More information is available at ouramericanvoice.org.